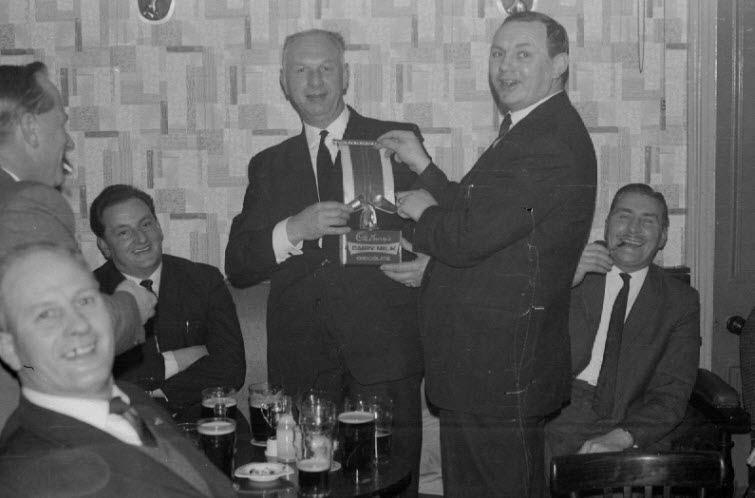 L to R - Joe Trigg, Tommy Crabbe, Colin Wooldridge, Maddy Williams, John Huxtable
Kindly submitted by John Huxtable - February 2012

I was D/S in 1965 promoted Uniform Insp 1968 and returned to CID D/Insp on amalgamation in 1969 This picture seems 1965/66/67. Maddy is receiving a box of chocs and a team ribbon and as it's Huxtable, probably Cricket. Alec Banfield maybe then D/Insp. I think it's possible that the one sitting with arms folded is Colin Wooldridge and the one thought to be Crabbe could be Bill Collins. But I am not certain of this apart from the years.
Joes Trigg -May 2014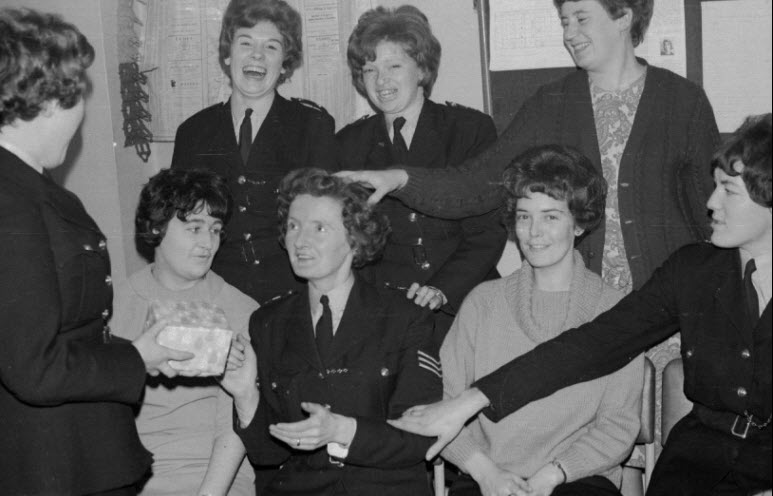 Presentations to Bill and Freda Williams
Back row L to R: Diane Baker nee Price, Eryl Jenkins Nee Skyrme, Margaret Barry.
Front Row L to R: Marilyn Davies nee Frost, Chris Olsen, Freda Williams, Aylwyn Thomas, Vera Cowell.

Update: July 2012 - All now identified thanks to Eryl Jenkins :-)

Kindly submitted by John Huxtable - February 2012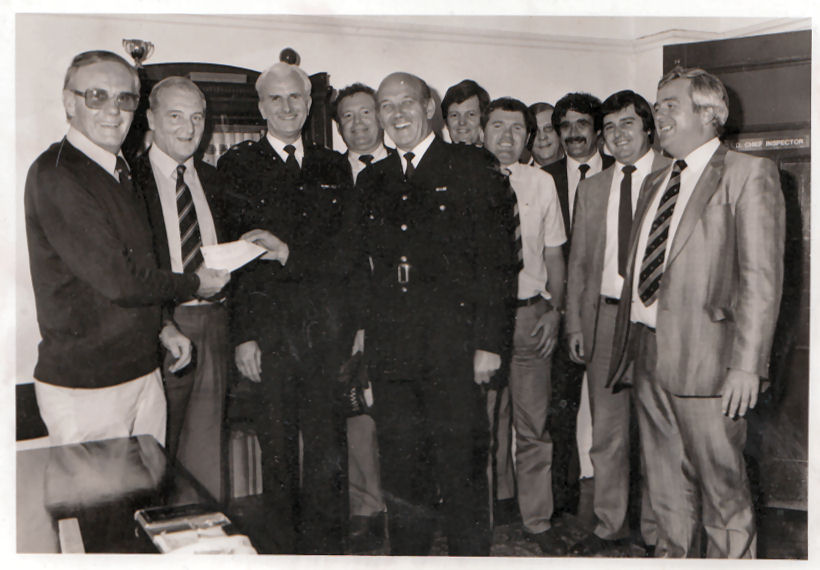 CID - Lifeboat Presentation - 26th June 1984
Kindly submitted by Allan Rees - February 2012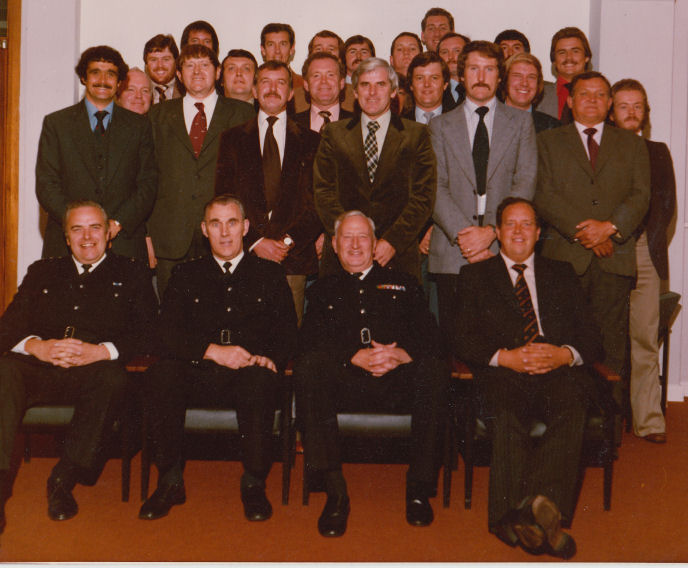 Cockett CID - 1979-80
Back left: Brian Jenkins, Keith Thomas, Peter Minty, Wilf Warne, John Lewis,
Mike Thomas, Norman Hathaway, Brian Guy, Terry Townend, Aston Davies,
Mid-left: Allan Rees, John Gronow, Derek Butler, Huw Williams, Gordon Williams,
Gareth Rees, Eric Bolton, John Kerr, Selwyn Jones, Peter Hall, Alan Jenkins, Kerry Lewis.
Front left: David Stafford Jones, Hywel Rees, Bill Gordge, Graham Harling
Kindly submitted by Allan Rees - February 2012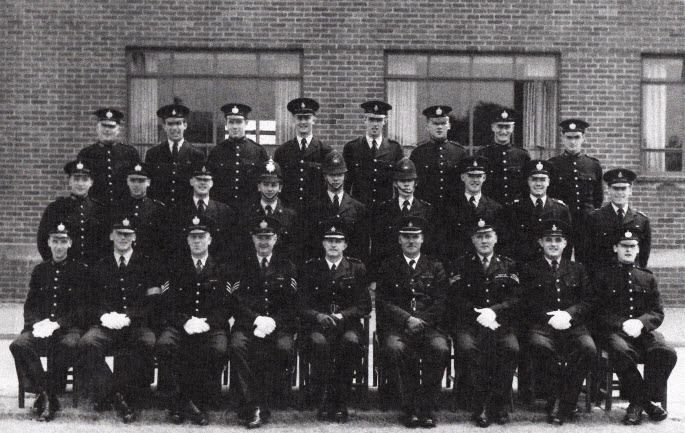 No. 8 District Police Training Centre, Bridgend - 5th Jun - 28th Aug, 1959


Back Row: Pc's J.Davies (Glamorgan), M.Carroll (Cardiff), C.Watkins (Glamorgan), E.Dutfield (Cardiff) A.Pugh (Carms and Card's), M.Bird (Glamorgan), T.Tirbles (Glam), J.Roberts (Glamorgan)
Middle Row: Pc's R.Jones (Glamorgan), K.Thomas (Glam), D.Daniel (Carms & Card's), G.Jones (Denbigh), D.Richards (Pembs), A.Bristow (Pembs), J.Harris (Cardiff), G.Beeson (Monmouth), J.Hutchens (Newport)
Front Row: Pc J.Callow (Glamorgan), Pc B.Spendlove (Monmouth), Sgt. F,Diggins (P.T. Inst'r)
Sgt. D.Wilding (Class Ins'r), Chief/Supt F.W. Whiley M.B.E (Commandant), Supt. C.D.St.Q Fletcher, Sgt. G. Arnold Drill Inst'r), Pc T. Marshall (Carms & Card's), Pc A.Evans (Glamorgan)
Kindly submitted by: Glynn Jones, Bolton, Lancs - Ex. Denbighshire Constabulary - Feb 2012
********************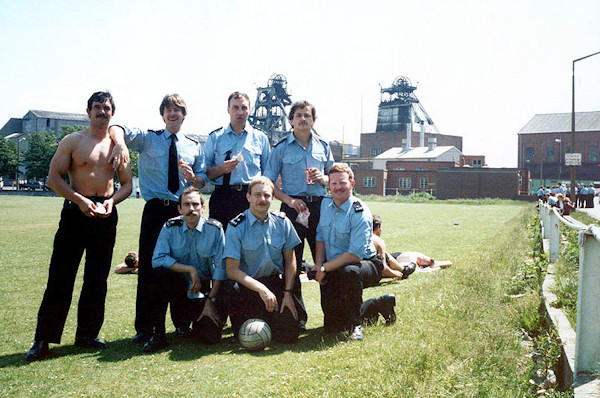 PSU officers from 'H' Division posing on a lawn at the entrance to a colliery in the North of England. It looks like it was taken in the Summer of 1984 going by the weather. Phillip Williams "peewee" still has his tie on. Jeff Hapgood on the far right looks as 'cool' as ever!
Kindly submited by Kevin Gandy - Jan 2012
*******************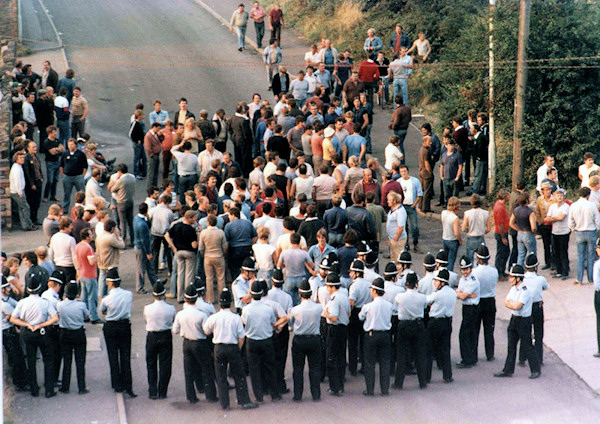 This second photograph depicts the picket line at Bedwas Colliery near Caerphilly after some of the men returned to work. Manning the police line on the far left are the J Divison DRG, boldly led by Sergeant Dai Salter. Also present is myself with my hands behind my back, John Jewel, Ken Jones, and last but not least Digory.
Kindly submited by Kevin Gandy - Jan 2012
******************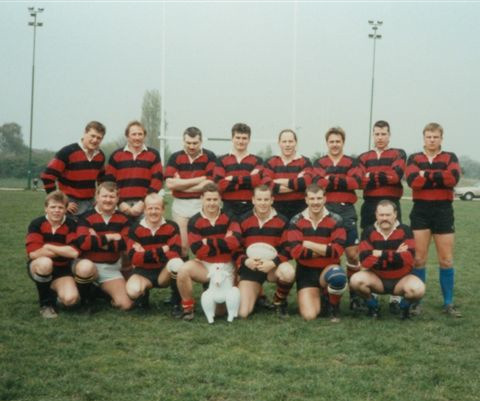 'G' Division Rugby Team - On Tour in Manchester - 1990
Back row from left: Steve Morris, Paul Hopkins [DI PSD now]
Phil Hurd, Huw Griffiths, Bob Woolford, Kelvin Parry, Justin Legg, Paul Lewis.
Front row from left: Gareth Edwards, Kevin Jones, Dick Davies,
Alun 'Maxi' Thomas [now Ch Supt Cardiff], Kevin Brooks (Captain), Mark Harris, Steve Morris.
Kindly submited by Insp. Paul Lewis (D.Powys/ex.S.Wales - Jan 2012

*****************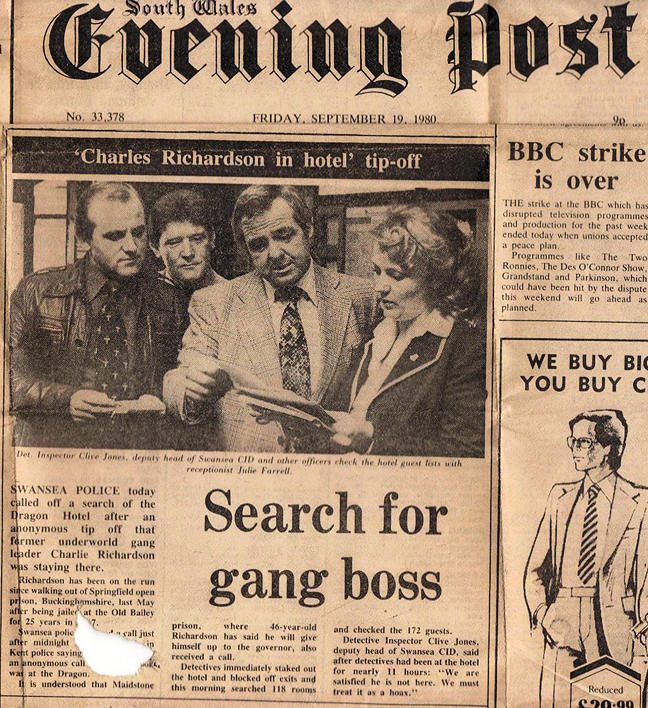 Manhunt at the Dragon Hotel - 1980
*************************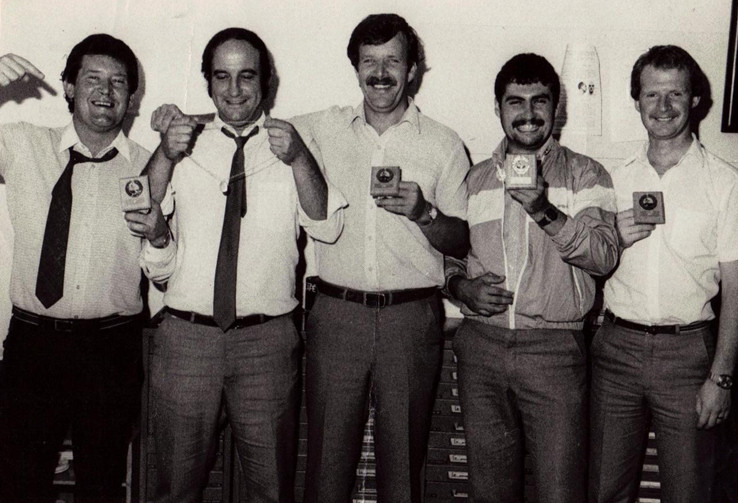 Swansea CID - 1985
Winners of the gold medal for the team 5 mile run at Force Sports Day
Left to right: Clive Bartlett, John Black, John Jones, Paul Edmunds and Steve Gallagher
Kindly submitted by Clive Bartlett - Jan 2012

***********************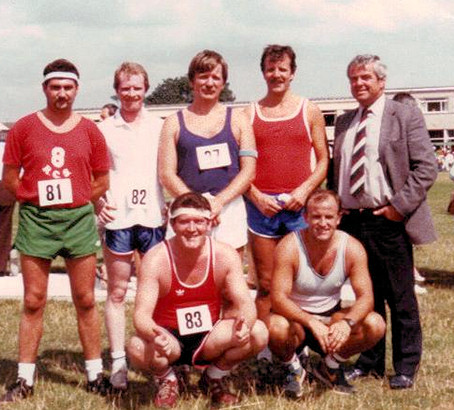 Another photograph of the above event but also including
Gareth Williams, Clive Jones (DCI) and Dai Williams.
***********************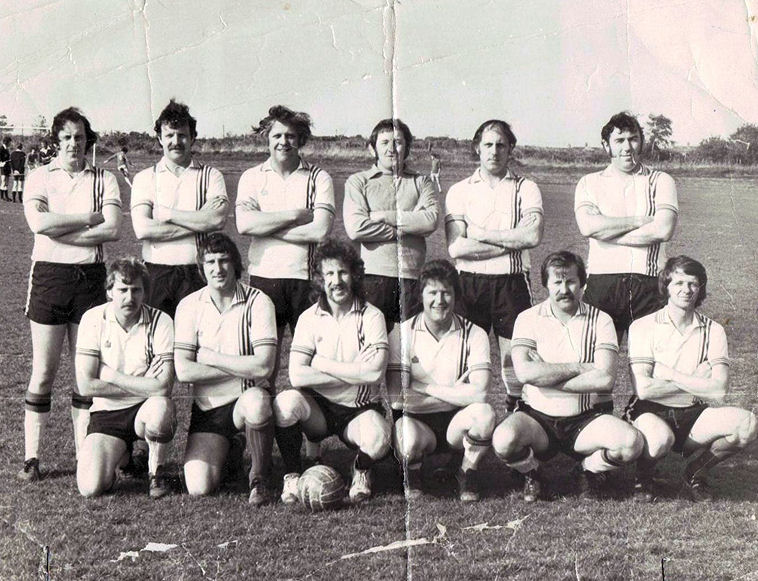 'H' Div - Soccer Team - 1977
Back row: Roger Parr, John Jones, Cyril (Humpsey) Baker, Len Ballinger and Joe Daniels.
Front row: Bob James ? (maybe Gerry Protheroe) Keith Davey, Clive Bartlett, Alan Mages and John Phillips.
Kindly submitted by Clive Bartlett - Jan 2012 with some ID assistance by Roger Wedlake

********************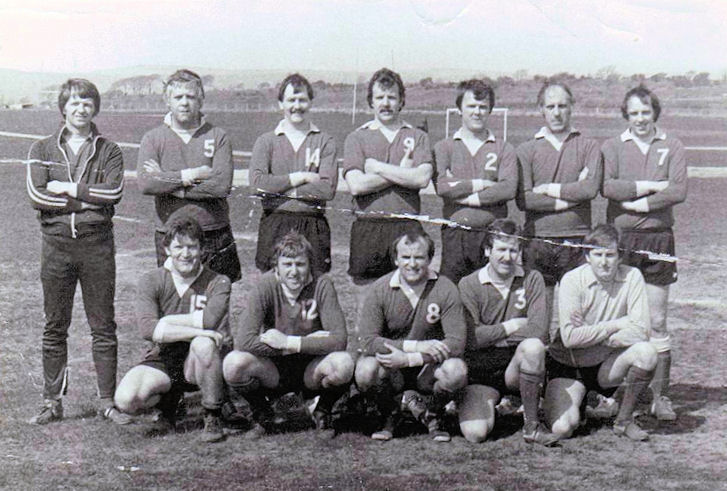 'H' Div - Soccer Team - 1975
Back row: John Phillips, Cyril Baker, Mike Godrich,John Jones, Roger Cooke, Len Ballinger and Roger Parr
Front row: Clive Bartlett, Bob James, Dai Williams, Lyn Jones, Tony Thomas.
Kindly submitted by Clive Bartlett - Jan 2012

*************************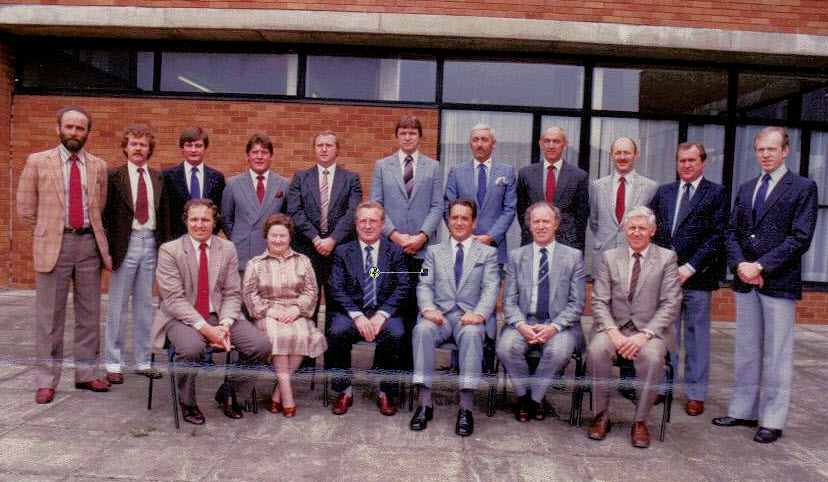 No 8 RCS - Swansea office - 1983
Included in the photo are:
Back row from Left to right: Ritchie Parry (DP) Kerry Lewis, Alan Watkin (DP), Clive Bartlett,
Tony Davies (DP), Delme Phillips (DP), Mansel Williams, Mike Sparks, Mike Donovan (DP),
Brian 'Georgie' Davies (DP), Dave O'Brien 'Dobbs'.
Front row: Roger Jones, Phyllis Norris, D.C.I. Tom Davies (DP.), Derek Durant - Regional Co-ordinator,
Jim Gates Deputy Co-ordinator), Islwyn Evans.

Kindly submitted by Clive Bartlett - Jan 2012
A joint effort - Thanks also to Paul Lewis, Delme Phillips, Kevin Jones, Eirian Williams (D.Powys for identifying the officers.

Update : Thanks also to Tom Page for correctly identifying Jim Gates (Nov 2012)
Jim was a former Glamorgan County Officer who served at Barry and Cardiff.
Sadly, he died in 1996/7.

***********************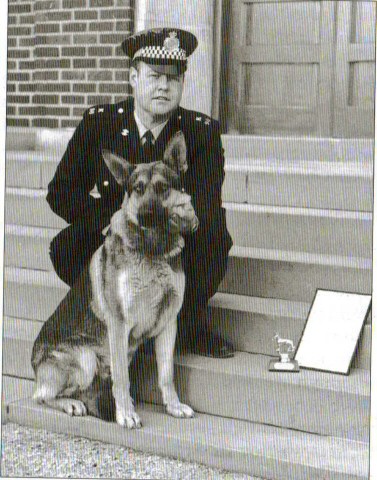 "Prince" - South Wales Police Dog who originated from Baglan, Port Talbot
He was gifted to the Police dog School at Bridgend
Police Headquarters during 1976 after biting the local milkman!
His handler here is PC Chris Farmer - please note that the dog
and handler took 1st place on the course!
Kindly submitted by Terry Townend Jan 2012

*****************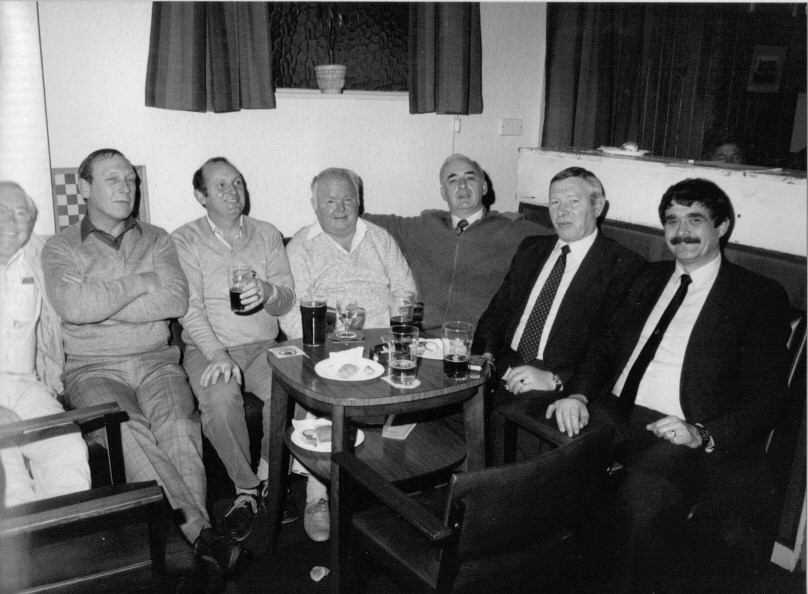 Allan Rees, Supt Dewi Williams and 'others' chilling out!
Kindly submitted by Terry Townend Jan 2012
**********************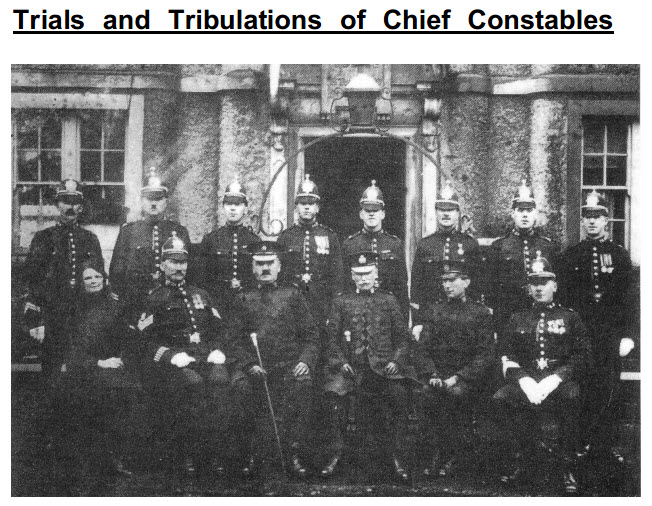 Photograph was taken outside Fforestfach Police Station in 1923
Further details here and in our Winter 2011 Newsletter.

******************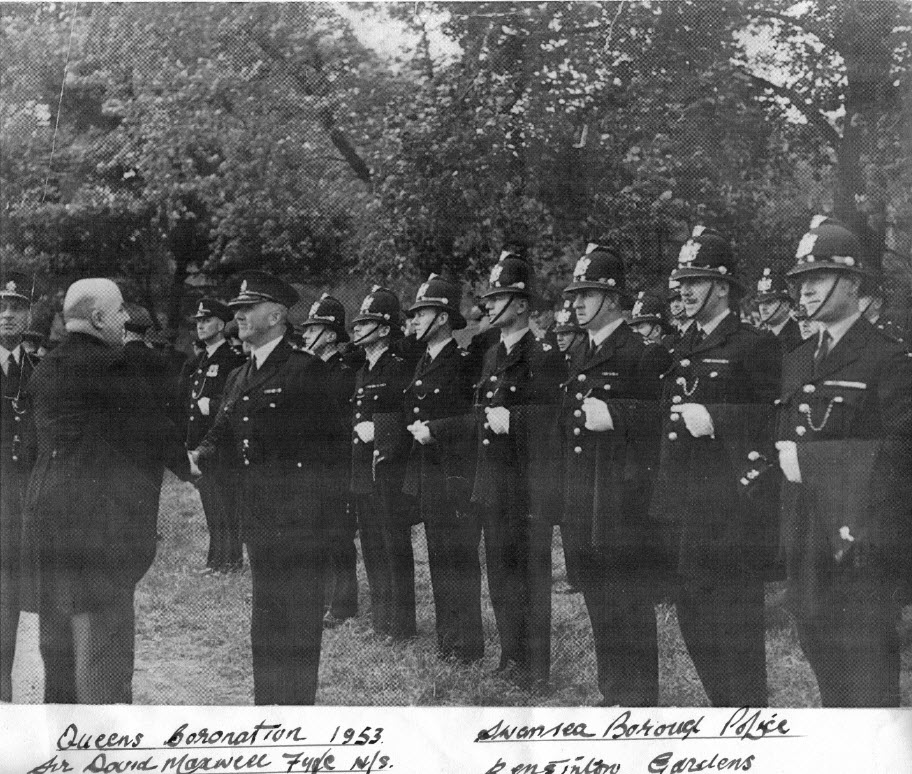 Queens Coronation - 1953 - SBP contingent at Kensington gardens with Sir David Maxwell
Graham Davies met a former policeman, Hubert Butt (who Graham believes was an Ex Guardsman and only
served a few years in the force) who provided him with this photograph showing the Swansea
contingent in Kensington Gardens for the coronation of the Queen.
Some of the older members may recognise these former officers.
Kindly submitted by John Huxtable - Dec 2011

*************************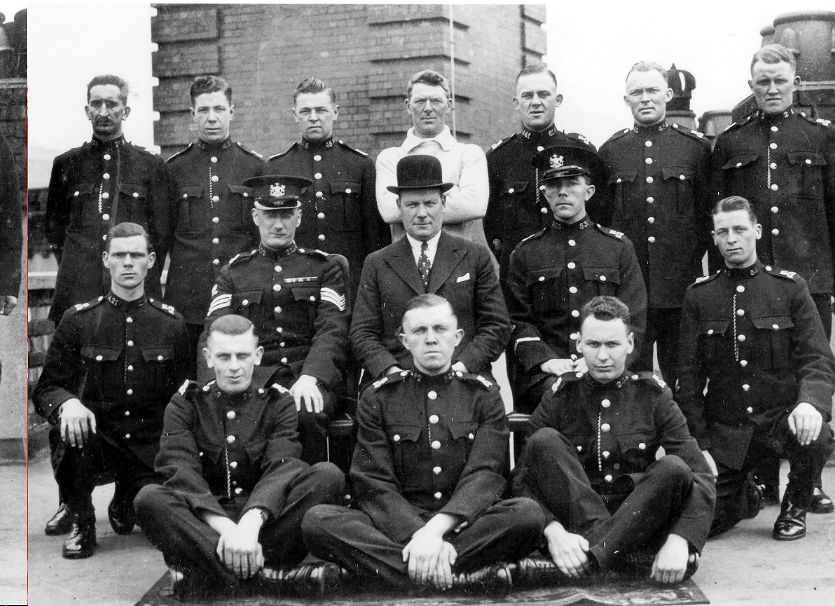 Another 'Blast from the Past' - An amazing photograph, taken on the roof of the 'Old' Swansea Central Police Station, Orchard Street, Swansea sometime during the 1930's.

Kindly submitted by Brian Pounder, retired Superintendent, living in Bridgend - a former Swansea Borough officer. A letter from Brian, identifying the characters can be read here. 12th October 2011

Update - Bryon, I was at lunch yesterday when Brian Jones showed me the photograph and having joined the Swansea Borough Police and Fire Brigade as a cadet on 1st March 1941 was able to identify the persons shown. I would think that it was taken, probably 1934-1936. Yes, the Swansea Police School did take recruits from Neath and Carmarthen Boroughs, thats why the Neath Borough man is in the photograph. (Eric Place - 13th October) +
Updated again on 15th March 2012 - In the Centre, back row is Sgt Tidswell Drill Sergeant.
****************

All recent new photographs previously displayed on this page (up until November 2011) have been archived here.
To all contributors - Your input is invaluable and very much appreciated; please keep on sending us photographs and stories, both modern and old. You may of course remain anon. if you so wish!

NB: If you send in material and don't get a reply within a week, we would appreciate a reminder.
Thank you.
New Search Engine
The web site content is getting much larger as time goes by, sometimes making a subject (person, story, photograph etc) hard to find. To get around this and make life easier, a brand new 'Search Engine' was introduced in January,2012. It is automatically 'spidered' by electronic robots every 4 weeks so please bear this in mind when searching for recent content which may be less than a month old.
The search engine has been placed on several pages - near to the top of the 'Home Page' - 'News Page' - and also below. Unlike Google which of course searches the whole of the Internet, this new search engine will only search within the confines of the Swansea Narpo web site. Please feel free to try it out!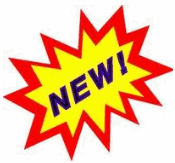 The whole web site is indexed every month. To carry out a search, please enter name or subject into the box provided.
NB; There is normally no need to use capital letters as lower case works very well for most searches. Jeff Davies - Feb 2012

© Copyright of narposwansea.co.uk