Dear all,
Greenham Common protests
Please see the attached letter received from the Police and Crime Commissioners office.
It is relating to a request for officers to take part in a Welsh Language TV programme about the Greenham Common protests 40 years ago. They are looking for any Welsh speaking officer they may have been deployed at the time and are interested in taking part, hopefully the letter is self-explanatory.
If you wish to take part the PCC's office could help coordinate communication with the production company.
Regards
Phil
Phil Addicott NARPO
Secretary
Dyfed Powys Branch
19th Feb
*************************
New year message

May I wish our members a Happy New Year.

Like you all I look forward to the vaccines being available to all as soon as possible, enabling normal life to return. Christmas day was particularly difficult for us. We were due to spend the day with our younger son and his family, but our daughter in law tested positive for the virus a week before. She has now fortunately recovered.

It has been very difficult not being able to see our families and friends, in some cases for several months. Normal life and routines have been interrupted in ways we could never have thought possible. Let' s hope in 2021, all this disruption to our lives will end. Stay safe and well.

Brian Davies
Branch Chairman.
1st January 2021
***********************
Newsletter – If you have anything that would be informative or of interest that could be included in the newsletter please forward to Andrew or Carole Milne. Email: aamilne@hotmail.co.uk / carolemilne@hotmail.co.uk
Narpo update pension and subscription
The annual percentage increase for police pensions 2021 will be 0.5% (previously 1.7%)
As from the 1st January 2021 the minimum NARPO subscription will be £21.60 annually, (previously £21.48), this amounts to £1.80 per month (previously £1.79).
Committee Meetings – All meetings have been cancelled; they will be arranged when deemed safe to do so. If you want any issue raised, at a future time please contact any Committee member or our Secretary Phil Taylor Tel. 01792 842378 or email: narposwansea@yahoo.co.uk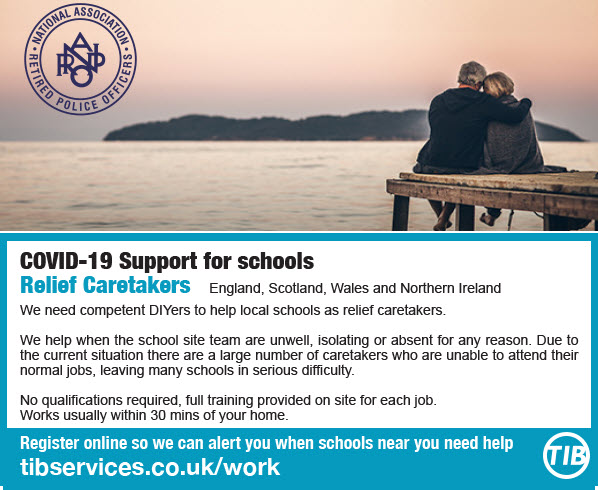 NARPO Member Survey December 2020
Here at HQ we are currently planning the 2021 issues of NARPO News.
NARPO News is our flagship publication, which is first, and foremost, for you, our members, and we want to make sure we're giving you the best publication possible. So that we can make sure we're doing that, we would like to find out your views on the magazine as it is currently, things you might like to see in future issues, and more about you. This is so that we can make sure future content and advertising matches Members' interests and outlooks.
To do this, we are asking if you would take part in this short survey, that should take around 5 minutes to complete. All you have to do is click on the Survey Monkey link below to take part. The closing date for responses is 4th January 2021.
NB. COVID-19 – Coronavirus has affected all our lives this year and has meant that we haven't been able to do the things we normally do or had planned to do. Hope is on the horizon though and as this survey is about the bigger picture could we please ask that you answer the questions from the perspective of 'normal/none COVID times'.
Thank you,
NARPO HQ
Don't forget, we are also always on the lookout for member participation in NARPO News, whether that's letters, an event you would like to publicise or something from across the work, life leisure spectrum which you think would inspire others, we want to hear from you. Please send your submission ideas to businesssupport@narpo.org .
Members of the Committee continue with Welfare calls
Following on from the positive feedback from previous months, the committee of Swansea NARPO decided that they would continue in their efforts to contact, by phone, widow(er)s, single persons and people living alone, who are members, to ensure they were alright. The purpose is to have a general chat, and to listen to their concerns and individual circumstances in coping with the restrictions. The response continues to be one of thanks, that they had not been forgotten in these strange times. The participating members of the committee enjoyed listening to many delightful stories from those contacted. The committee all agree that it is a really satisfying exercise.

Although the committee attempt to contact everyone in these categories, there were several who could not be reached. We realise that it is likely that some members are staying with families away from home during these times. It also showed up that some members details were out of date, and where possible, these were updated.
However, if you did not get a call, or would enjoy a phone call please contact our secretary, Phil Taylor by Email: narposwansea@yahoo.co.uk to request a call and to check he has your correct contact details.