Hi Phil,


2

I hope that you and yours are well. Please convey my thanks to Swansea NARPO for my recent birthday card and vouchers it was a lovely surprise, and much appreciated.
Best wishes

Bryan Jenkins
16th April 2019

****************

Many thanks to everyone at NARPO for the birthday card and vouchers received for my 90th Birthday. Both were much appreciated

Best wishes to all

Jock Grant
April 2019

*************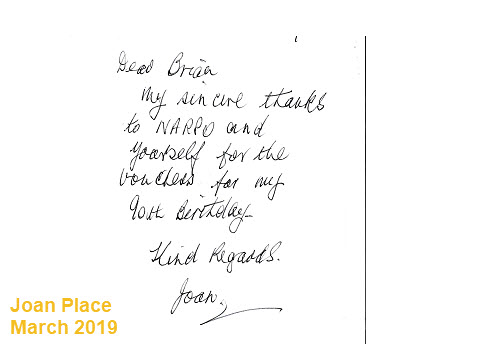 ***************
Marilyn and I received the Golden Wedding Card and enclosures to mark our anniversary which falls on 10 th March. We got married on a Monday, the excuse given at the time to unfavourable relatives. was that because Wales were playing Ireland on the Saturday. We had to think of the rugby supporters which did not go down well at the time. Marriage is never an easy contract but despite all, three beautiful children, four even more beautiful grand children,some in laws and two great Jack Russell pups later, we have got there.

Thank you for the card and gift which is gratefully appreciated by us both. Hope you are personally in good health. Regards to all others.
Terry and Marilyn Hughes
(Ex 239/ 2259)
March 2019

*****************
Keith Watkins has telephoned me to thank the Committee for his Birthday Card/ Vouchers etc.
Bryon Tucker
March 2019
*****************

Hi Bryon.
Thank you for the card and vouchers from Narpo. Appreciated.
Regards
Bob Whitter Jones
11th Feb
***************
Many thanks for the Card and vouchers. Hopefully I have started on the slow road to recovery - a nice morale booster.
John Davies
30th Jan
***************
Thank you for my birthday card and gift, I'm now officially an OAP
Eirwen Eves
11th Dec
***************
Daphne Rosser has phoned me to thank the Committee for her recent lovely (as she put it) Birthday Card and Vouchers.
Bryon Tucker
13th Nov 2018
*******************
Good Morning
Many thanks for your card and gift on the occasion of my birthday. They were greatly appreciated. Best wishes to all at NARPO Swansea
Regards
Winston Price
8th Sept 2018
****************

Hi bryon,

Thanks for the card and vouchers.
Liz Hughes

August 2018
**************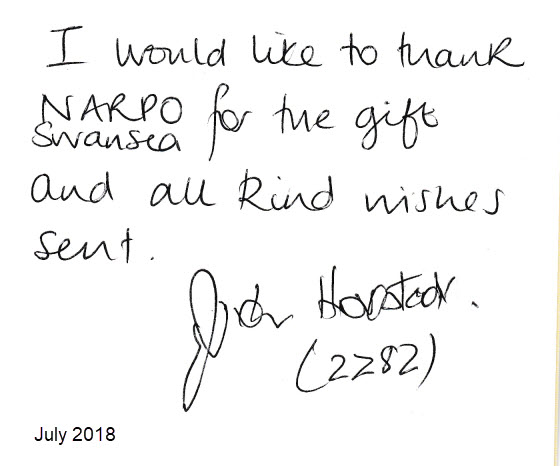 ***********
I have write and say thank you to Narpo for the lovely card and gift tokens I have received this morning after my total knee replacement operation.
It is such a kind gesture and means a lot.
I have to add that I have had a few inquiries from members about funding from the NHS for operations abroad. If anyone else needs help or information please get in touch as it is so very easy to access and to be out of pain within months and not years is incredible.

Barbara Bevan
2nd July
*************
Hello Bryon, Just a quick line - please pass on my appreciation to all at Swansea NARPO for the gift vouchers which I have received on my 70th. birthday. I promise to spend them wisely.

Regards to all David Owen.

29th June
************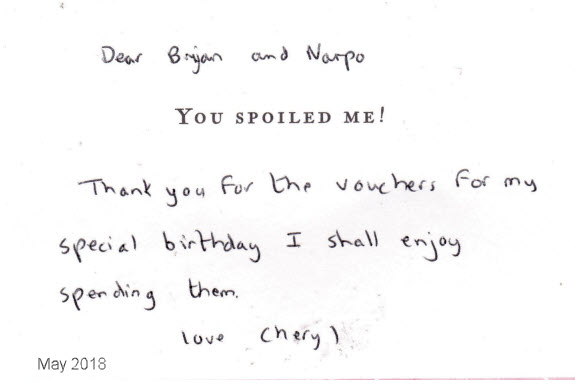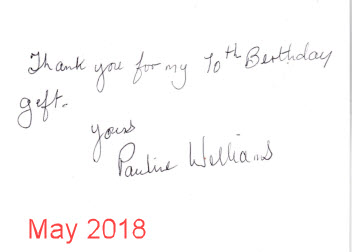 **********
Just to say thank you for the get well card you sent me on behalf of Narpo and the gift with it. I am sorry I am so long in replying but was only discharged from hospital on Tuesday, and I am on constant Oxygen at home, this has slowed me up in every way.

Best wishes to you and all at NARPO
Adrian Crocker.
13th May 2018
***********
Hi Bryon,
Just returned from a weekend in the West Country where we celebrated Vilma's 70th birthday, to find a card and vouchers from Narpo.

Thank you very much, it was a lovely gesture and very much appreciated by Vilma and myself.
Regards Alan Williams
April 2018
***********
Dear Phil,
Would you be so gracious enough to extend my thanks to the committee for sending me my birthday card and generous gift.
Yours sincerely,
Andy jones
April 2018
*************

Hi Phil
I hope you and all at Swansea NARPO are keeping well.
I have just returned home from a weeks holiday and was delighted to have received a Birthday Card and Vouchers from Swansea NARPO. It has been very much appreciated and please pass on my thanks and very best wishes to 'all'.
With best wishes and regards.
Peter (Jenkins)
March 2018
*******************