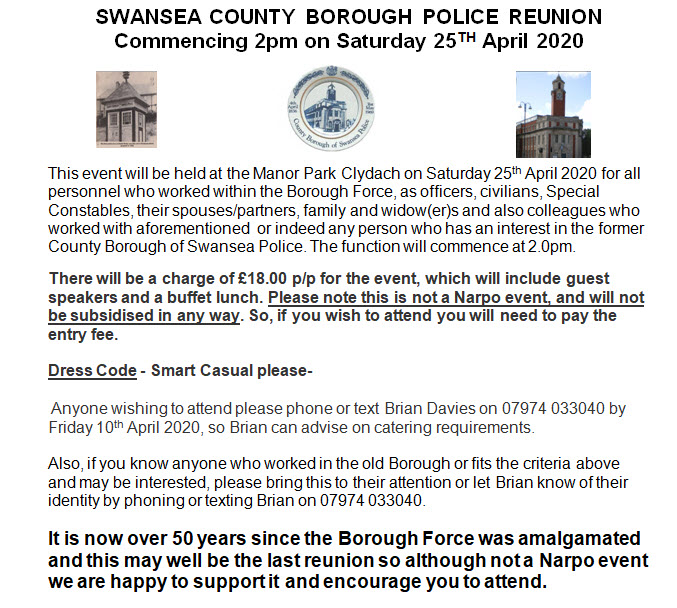 **********************
Policing the Miners Strike - We have received an email from Steve Daniels, asking for some help for Phil Bowen's son, Mathew, who is a student at Swansea University and doing a dissertation on the miners strike. To date, much has been written about the subject from the miners side, but not from a Policing perspective.
This would be an opportunity to put across the hardships suffered by the Police in policing the event.
Both Phil and Mathew would appreciate any officers that were involved in the Policing of the strike having a chat with them. Please contact Steve Daniels by email stevedan@ntlworld.com and he will supply contact tel numbers for both Phil and Mathew.
21st Nov
Coffee Morning February - On this occasion will be held at the Grand Theatre (Circle Bar) where there will be a Power Point presentation on Prostate Cancer Awareness by Mr Dai John. The presentation will commence at about 11.0am. Hopefully we may get other Speakers for future meetings. There is lift access from the Box Office floor.

Mr Dai John is knowledgeable, informative and humorous, having experienced prostrate cancer himself. This is not just a male orientated presentation; there is a lot to be learnt by ladies who attend.

Coffee Mornings take place between 10.30am and 1.0pm on the 3rd Friday of the month so the next dates are 20th March, 17th April, 15th May, 19th June and 17th July. No need to book - just turn up for your free filter Coffee/Tea and biscuits – or if you prefer you can purchase Cappuccino- Latte- Hot Chocolate etc at the bar.
Coffee mornings photos - We now have a brand new page with links to photographs of our Coffee Mornings.
A special mention to Cheryl Taylor for your photo contributions during this and previous years.
Coffee Morning Photos can all be viewed here
Narpo Privacy Policy/ Photographs - our national body has produced a Privacy Policy document which sets out precisely how information you have supplied is dealt with. On a local basis at all our social events, several photographs are taken of individuals, and group photographs. These are then published on our website and Facebook page, for other members to see, and as a record of the events.
Should you not want your photograph taken, please inform the photographer at the time, otherwise it will be presumed that you consent to your photograph being taken.
Please note: The full privacy document from Narpo HQ can be downloaded here
************
Swansea Halberdiers - Just spent this morning (11th November) at Police HQ attending the Remembrance service. Whilst there I had a long involved conversation with members of the Swansea halberdiers. They have recently reformed , and have a nucleus of about 10 officers who attend parades etc whenever duties permit them to.

They are very passionate, especially the fact that they are the SWANSEA halberdiers. They are trying to model their uniform upon the old Swansea Borough one. What they are finding is that, now the weather is becoming colder, if they perform outdoor duties their uniform is not really warm enough. They have asked me to see if any ex Swansea officer has a greatcoat that they would be willing to donate to them. They have already been able to source four, but really need 8 to clothe a full working squad. The force tailors dept. have been unable to help.
So if anyone has any old Swansea Borough greatcoats, squirreled away in their attics etc, which they no longer want could you let me know and I will arrange collection. Also if you have any other Swansea Borough memorabilia in you possession that you either happy to donate, or lend to us for the Swansea Borough reunion please let me know.
Philip TAYLOR
Secretary
Swansea NARPO(98)
11th Nov
ITV Wales: Looking for election debate audience members

Hello Mr. Taylor,

I am contacting you because at ITV Wales we are looking for audience members for a live hour-long election debate programme we are organising. It is early days so we have not got many solid details but it will take place in Cardiff on a Sunday evening probably mid-late November. When we know exactly what/if an election is happening I will be able to give more information so sorry it is vague for now.
We are looking for people who might have an interest and want to take part as audience members. We are looking for people with a range of political views and opinions - although we are also particularly keen on targeting people who would vote either Liberal Democrat, Plaid Cymru or Brexit Party as we have less of those at the moment.
I was hoping you may be able to pass this information on to some of your members and anyone potentially interested (including yourself) can then drop me an email with their name, contact details and answers to the following:
- How did the vote in the 2017 General Election
- How would they vote in another General Election
- How did they vote in the 2016 EU referendum
- How would they vote in another EU referendum (Remain, Leave no deal, Leave Boris Johnson's Deal, Would not vote, Don't know)
We will probably only have an audience capacity of 100 and we will have to balance it politically and have a diverse group so may not be able to accept everyone who expresses an interest. At this stage though it would be good to gather some details for people who are interested.
If you have any questions you can email or call me on 08448 810 085. Hope this is something that interests you.
Thanks very much,
Sarah
ITV Broadcasting Limited (Registration No. 955957) ("ITV") is incorporated in England and Wales with its registered office at 2 Waterhouse Square, 140 Holborn, London EC1N 2AE. Please visit www.itv.com for further information.

25th October 2019