Social News

News Archives - 2011 - 2019 1 - 2 - 3 - 4 - 5 - 6 - 7 - 8 - 9 - 10 - 11 - 12 - 13 - 14
- 15 - 16 - 17 - 18 - 19 - 20 - 21- 22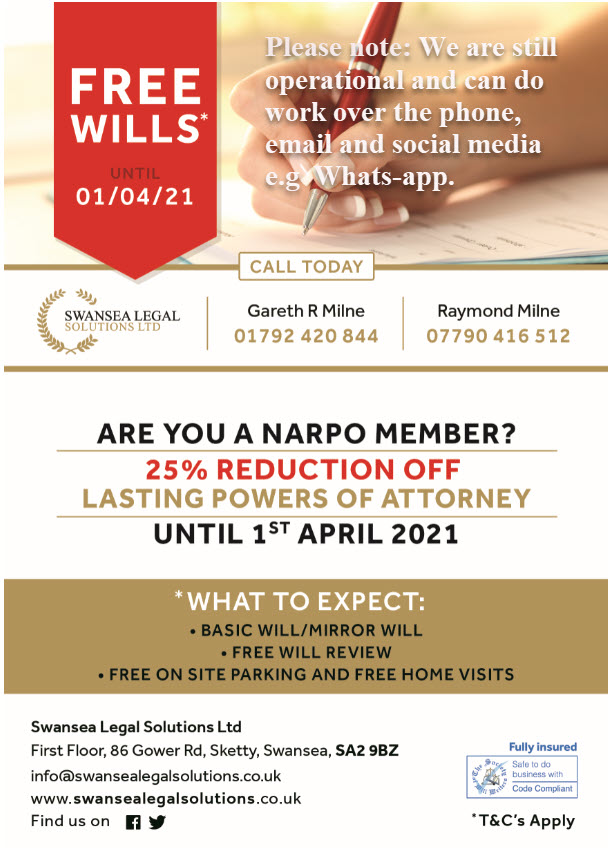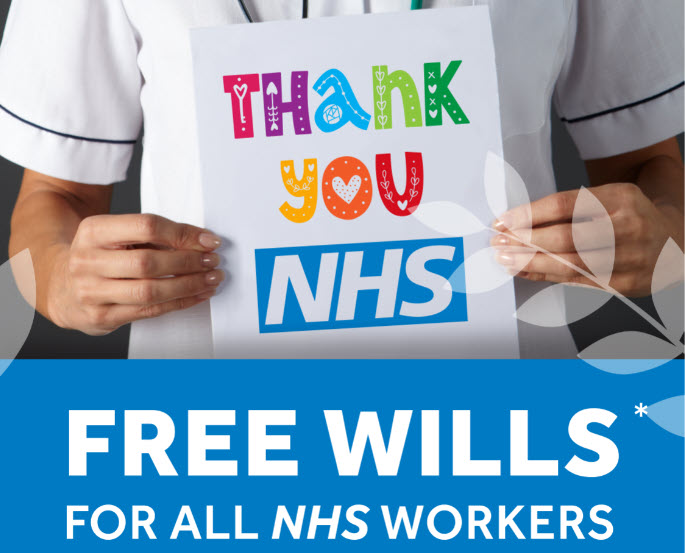 ********************
E mail received from the Swansea Chief Superintendent, Joanne Maal offering members assistance if needed.

C/Supt Maal has asked me to drop you a line in relation to the above. C/Supt wanted to let you know that if you or any of your members require any support at this difficult time, please do not hesitate to let us know.

Diana Price - Secretary) diana.price@south-wales.pnn.police.uk
Thank you - Good to know we are not forgotten.
24th March 2020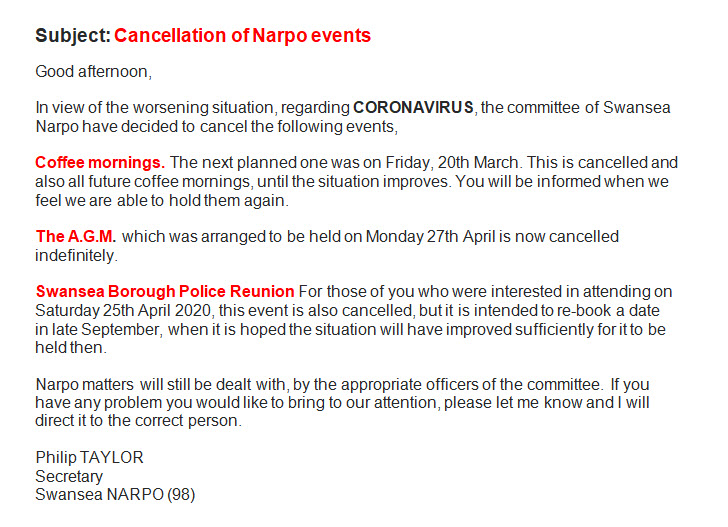 15th March 2020

Committee Changes - a warm welcome to Carole Milne and Terry Arnesen who have joined our Committee. Our Welfare Co-ordinator Bryon Tucker is relinquishing his various commitments which have been reallocated. Bereavements should be referred to Erika Fowler - Tel: 01269 597081 or by email; erikafowler762@gmail.com who will arrange for the Force Coffin Drape etc. Ill health should be referred to Carole Tel: 01792321781 or email carolemilne@hotmail.co.uk; Carole will also produce the Newsletter.
Coffee Mornings will now be arranged by Gerry Coad.
Ill Health - We don't normally broadcast anyone with Ill Health unless we have consent.
Wes Weekes is currently in the Cardiac Ward at Morriston Hospital. He has consented to us broadcasting his condition and would welcome any visitors but best to contact the Ward first to check before visiting.
6th March 2020
Data Protection-Newsletter We have reverted to our practice of mentioning Special Birthdays, Golden and Diamond Wedding Anniversaries. However we will no longer post details of a member's hospitalisation, unless we have prior consent) but individual members can post it on our Facebook Group or colleagues on their behalf.
(If you do not wish for your particular event to be mentioned in the Newsletter please inform our Sec Phil Taylor).
Bereavements - Our condolences to families of Jean Addison - Sonia Annis - Mary Watkins - Mike Green - Eric Place - Alan Davidson - Bill Sears - Graham Williams (2169) and non members Eddie Williams - Haydn Evans - Dai Williams(1886) - Margaret Barry (Ex Swansea WPC) - Gloria Williams (Typist) – Jean Sinnott.
Special Birthdays – Congratulations to the following on their Special Birthdays in coming months: Jacqueline Finch - Terry Healey - Graham Lloyd - Patricia Scott-Williams - Morry Addison - Aston Davies - Angela Popple - Moyra Guy- Rose Welch - Jean Davies - Alun Borthwick - Linda Clarke - Phil Osborne - Simon Bodinger and Glenys Elliot. Also to Alan and Vilma Williams and belated best wishes to Hugh and Jan Williams on their Golden Weddings and to John and Anne Smith on their Diamond Wedding.
New Members - Welcome to; Simon Davies, Greg Llewellyn, Geraldine Lewis, Sandra Turner, Stephen Evans, John Phillips, Hywel Jones, Andrew Lewis, Rob Richards, Tony Rees, Robert Nash, Chris and Dawn Mort, Kevin Garner and at long last Norman Wilkinson and Neil Rooney.
Blue Light Card- we remind you of this opportunity to benefit from genuine discounts .This is a computer based discount facility available to employees of emergency services and includes retired personnel such as ourselves. You need to visit www.bluelightcard.co.uk to view what is available locally and nationally and to register. There are hundreds of on-line discounts and also you can purchase a Card for £4.99 which lasts for 2 years and which can be used at participating checkouts. Locally, discounts are available at Halfords - Lloyds Chemist – Hungry Horse - Toby Carvery – White Rose. Recently, a member was booking a Cottage Holiday through Hoseasons and just prior to pressing the Pay Now button he suddenly remembered to check Blue Light – yes Hoseasons was listed. 2 clicks later and he immediately saved over £70!
Welfare Matters Benevolent Fund Please be aware there is money available in the fund, for home improvements, for disabled members, this application is subject to means testing. However, there is also NON MEANS TESTED funding for a rehabilitation break to Flint House. Also, for unforeseen hospital admissions, which require travelling and overnight accommodation for family members. For further information, to establish if you are eligible to claim these allowances, please contact Erika Fowler welfare officer–at Telephone 01269 597081 or by email; erikafowler762@gmail.com.
Any contact with Erika will be totally confidential.

Free Wills Offer and 25% discount on Power of Attorney
Ex Inspector 1490 Ray Milne is now assisting his son Gareth Milne at Swansea Legal Solutions Ltd. Gareth and his team specialise in wills, Lasting Powers of Attorney ['LPA's'], probate, property trusts, care fee planning, tenants in common, PROTECTING FAMILY HOMES. Please see Free wills [basic] and an excellent 25% reduction in price for LPA's in advert alongside. Any questions/ queries or for an informal friendly chat, simply call Ray 07790 416 512 or Gareth 01792 420844. Keep an eye out for further articles on the above services on NARPO Facebook and website.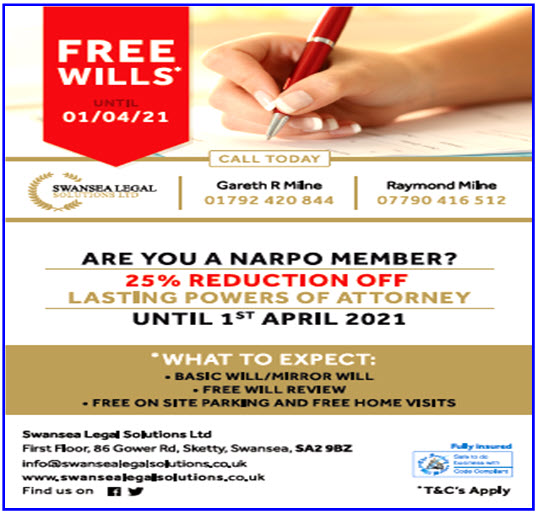 ******************
Quick Guide - New Photographs available to view below
Select links of your choice -
'Computer Stuff'

Website don't forget to visit our Swansea Narpo Facebook page plus our website www.narposwansea.co.uk regularly to get news updates, latest photos and many informative and advisory articles. You are reminded that a section of our website is for Members Only and to gain access to this you can obtain a password unique to yourself by emailing Jeff at beewise@talktalk.net . Some of you are having difficulty in accessing the Members Only pages because you are using Safari Browser - we suggest you use another browser e.g. Google Chrome or Mozilla Firefox - again contact Jeff if you want further advice on this.

Personal Records To ensure that you are kept informed of what is happening in Narpo locally and nationally it is essential that you keep us updated on any changes such as new home address, telephone number and/or email address.
At present we have some members whose only contact details are their home addresses.

Contact details: Important - In order that we are able to contact members in an emergency we ideally would like to have at least a contact telephone number, and possibly an e mail address.Your details are treated as confidential and will not be passed to any third party outsideof Narpo. If you have any doubts you can check the records we have on you by contacting our Sec Phil Taylor.



All e-mails are sent via BCC (Blind copy) so that members e-mail details will not be shown on any one else's e-mail, thus protecting their privacy. If you are receiving the Newsletter by Email and by post could you please contact Phil Taylor to let him know that you are content to receive the e mail copy only?

Our Swansea Narpo Facebook page (already over 300 members) is already a well-used and an established part of our communications network with news updates, old photos etc. being added daily. Regular users will be already aware of some of the information in the Newsletter but many of our members do not have computers. Also, many who do are not Facebook subscribers so some repetition is unavoidable.
All members with access to computers are welcome to join in - including bone fide family members who can show the items to their Narpo parents for example. It's a closed group so the content is not available to non-members.
Website appeal - Our Website continues to flourish, is well visited and complemented by our Facebook page 'Swansea Narpo'. We are confident though there must be many photographs and interesting/amusing anecdotes from 'your time in the job'. So, please do feel free to contribute and get in touch - you can of course remain anonymous if you so wish! We also welcome any suggestions you may have for improving 'your' website.