Social News - Extracted from Autumn Newsletter 2019

News Archives - 2011 - 2019 1 - 2 - 3 - 4 - 5 - 6 - 7 - 8 - 9 - 10 - 11 - 12 - 13 - 14 - 15 - 16 - 17 - 18 - 19 - 20 - 21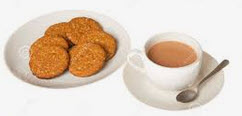 COFFEE MORNING
Coffee Mornings are now held at the Grand Theatre Footlights Bar. The bar at the café is not currently open during the day but Front of House Staff will open up the Conservatory area of the Footlights Bar and provide us with pots of coffee, tea and biscuits.
They are held on the 3rd Friday of the month so the next dates are Fridays - 20th September, and 18th October from 10.30am to 1.0pm
This new location is proving very popular; location is extremely convenient to the Quadrant Bus Station and there is also parking nearby. Reminders will be sent via Email, Website and Facebook which contains many pictures of our sessions.
Photos for Friday 19th July 2019
Bryon Tucker
16th Sept
Coffee mornings photos - We now have a brand new page with links to photographs of our Coffee Mornings.
A special mention to Cheryl Taylor for your photo contributions during this and previous years.
(Photos are now available to view here)
A Place in the Sun- NEC Birmingham 20th – 22nd September- free tickets
********************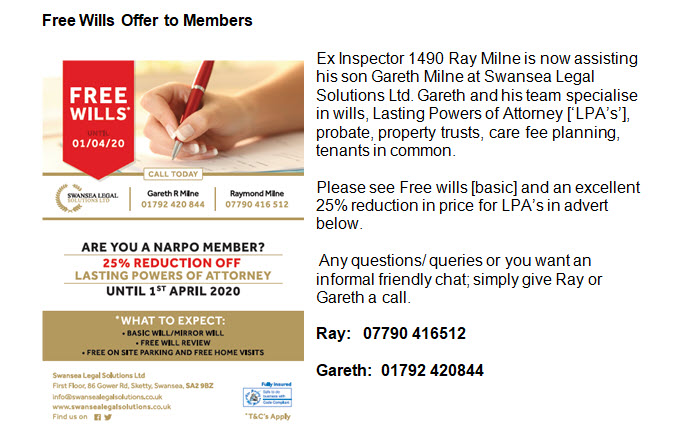 South Wales Police Federation Pensions Stance
Dear Colleague, I write to you as your Chair with regards to the stance of your local South Wales Police Federation inrelation to the latest development on the pension's judgement, which ruled that the transitional arrangements were deemed discriminatory and therefore unlawful. Read more here (PDF file)
********************
50 years of South Wales Police Celebrating 50 years of keeping South Wales safe
Another Video can be viewed here, presented by Chief Constable Matt Jukes
Also, a PDF Booklet outlining the first 50 years of the Force has been prepared and distributed.
Download your copy here.
******************
Special Birthdays - Congratulations to those with Special Birthdays in September and October - Islwyn Evans –
Con and Jan Morris - Cary Harding - Gil Martin - Ian Griffiths - Derek Pascoe - Beth Elias - Tony Imlach - Gethin Humphries - Cyril Baker and Jackie Tuckett. Also to Eric and Joan Place (Sapphire Wedding) Dave and Sonia Annis (Golden Wedding).

Bereavements - Our condolences to the families of Martha Beynon and Jill Weston.
New Members -Welcome to our latest new member - Stephen Williams.
Data Protection-Newsletter We have reverted to our practice of mentioning Special Birthdays and Golden /Diamond Wedding Anniversaries. However we will no longer post details of a member's hospitalisation– but individual members can post it on our Facebook Group or colleagues on their behalf.
(If you do not wish for your particular event to be mentioned in the Newsletter please inform our Sec Phil Taylor).
Quick Guide - New Photographs available to view below
Select links of your choice -
Computer stuff... Upated August 2019
Website/Newsletters by Email - our rolling programme on this is progressing well and it continues it's onward march. We appreciate your co-operation and the Branch funds are now benefitting as a result.

Please, please remember to update Phil when you change your email address, phone number or home address for any reason - this is essential for us to keep you informed – Phil recently had at least 8 emails rejected that he had sent to members because he had not been updated.

If you are not yet receiving your copy of the news letter by Email only and you wish to change to that method, then send Phil Taylor an Email to narposwansea@yahoo.co.uk and he will arrange it. This saves us postage costs and gives you a much better presentation in colour etc.

All e-mails are sent via BCC (Blind copy) so that members e-mail details will not be shown on any one else's e-mail, thus protecting their privacy. If you are receiving the Newsletter by Email and by post could you please contact Phil Taylor to let him know that you are content to receive the e mail copy only?
Personal Details - in order that you are kept informed of what is happening in Narpo locally and nationally it is essential that you keep us updated on any changes such as new home address, telephone number and/or email address. If you have any doubts you can check the records we have on you by contacting our Sec Phil Taylor.

Our Swansea Narpo Facebook page (already over 300 members) is already a well-used and an established part of our communications network with news updates, old photos etc. being added daily. Regular users will be already aware of some of the information in the Newsletter but many of our members do not have computers. Also, many who do are not Facebook subscribers so some repetition is unavoidable.
All members with access to computers are welcome to join in - including bone fide family members who can show the items to their Narpo parents for example. It's a closed group so the content is not available to non-members.