Details of future events will be published both here and in Newsletters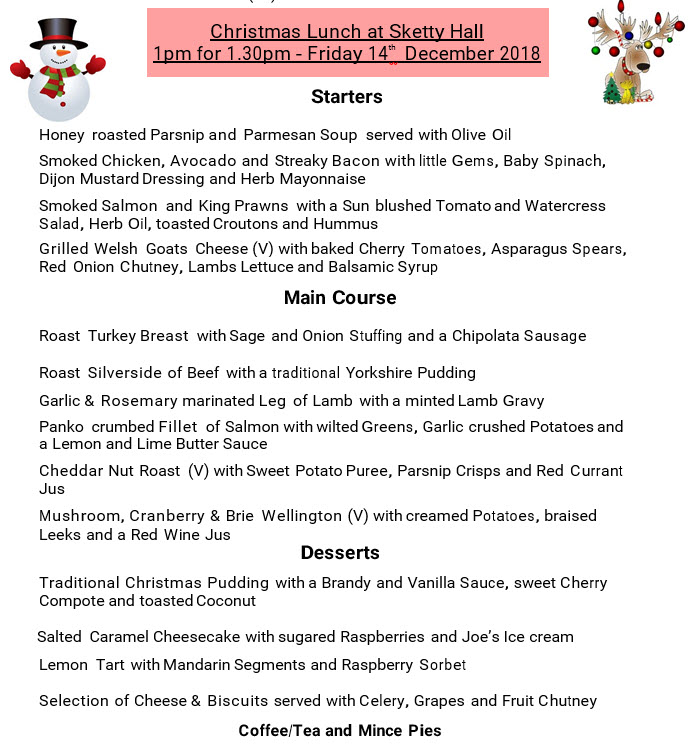 The cost to members and partners will be £18 per head and £24.95 for guests.
There is a limit of 100 places, and many of you have already contacted Gerry Coad to book your places. To reserve, please phone Gerry at 01792 202538 or email gerard.coad@btinternet.com.
To confirm your place you must send a letter or note, indicating your meal choices together with your cheques (payable to "NARPO Swansea Branch") to Mr G Coad, 214 Derwen Fawr Road, Sketty, Swansea, SA2 8EA.
Your written meal choices requests and cheques must be received by Gerry by 1st December 2018. Please keep a note of your choices and bring this note on the day as it really does help.
************************
Coffee Mornings just turn up, enjoy your coffee/ tea and biscuits and have a chat at the Tapestri Café/ Bar (old CPS) in Alexandra Road between 10.am and 11.30am on the 3rd Friday of the month. Facebook, website and Facebook reminders will be issued (Note the earlier time of 10am)
PLEASE NOTE - There will be no Coffee Morning in December
Norton House Aug 2018 - Photographs now available to view... Published 10th Sept 2018 -
Christmas Lunch 2017 was held at Sketty Hall, Swansea on Friday 15th December.
Photographs can now be viewed right here...




Thank you to Cheryl Taylor for this fine contribution.
17th December