Social News

News Archives - 2011 - 2019 1 - 2 - 3 - 4 - 5 - 6 - 7 - 8 - 9 - 10 - 11 - 12 - 13 - 14
- 15 - 16 - 17 - 18 - 19 - 20 - 21- 22
Job Profile - Part Time Role for the Investigation of Road Traffic Accidents.
Mercury Claims undertakes the investigation of several thousand road traffic accidents annually on behalf of major insurers and leading solicitor firms.

My local agent has now retired and I wish to find a replacement-purely part time work.
Virtually all of our Investigators are ex police officers, Tenby.Haverfordwest,Carmarthen etc would be good locations.

Thank you in anticipation of your assistance

Regards
John Pierpoint F.C.I.I.
Claims Director
JOHN PIERPOINT​
DIRECTOR
Mercury Claims Ltd
PO Box 1902,
Southampton,
SO18 9PT
Tel: 023 80 480222
www.mercuryclaims.com
ALL BRANCH SECRETARIES AND NEC MEMBERS FOR INFORMATION - (MINERS STRIKE ARCHIVE)
We have been notified by ACC Forber of South Yorkshire Police that their Force are considering opening up the Miners' Strike archives. The intention is to publish the material within the South Yorkshire Police Miners' Strike Archive ('the archive'), so that it is electronically accessible to all. The aim is to release as much of the archive as possible into the public domain, However, before doing so, the Force is proposing to carry out a redaction process of some of the material prior to its disclosure.

Before releasing any material South Yorkshire Police are seeking the views of interested parties, including Staff Associations, Police Forces, National Police Chiefs Council and NARPO in relation to their proposed redaction policy.
Protecting our Members' personal data and welfare are of paramount importance. NARPO has sought advice from our Data Protection Officer, and we have made an initial response to the consultation. We will be making further more detailed submissions in due course to best protect our members and their welfare.

The matter was discussed at the recent NEC meeting and it was agreed to contact Branches on this issue, as well as providing advice to Branches and Members on 'historical enquiries and events.
Therefore, it is extremely important to remind our Members to exercise caution when responding to any requests regarding this, and any other 'historical' policing events.
This includes refraining from posting any information and/or comments on any social media or other platforms on such matters which can be accessed or viewed by the public, which could lead to the possibility that it could be used in any future criminal or other enquiry.

Regards
Steve Edwards
CEO
Tel: 01924 331251
Email: ceo@narpo.org
www.narpo.org

New - Paypal charges for inactive accounts from 16th December 2020

PayPal is set to introduce an annual fee of up to £12 for users whose accounts have been inactive for a year or more – but you can avoid the charge by logging into your account before the deadline in December. If you wish to close your account, I have included a screen grab of how to do it.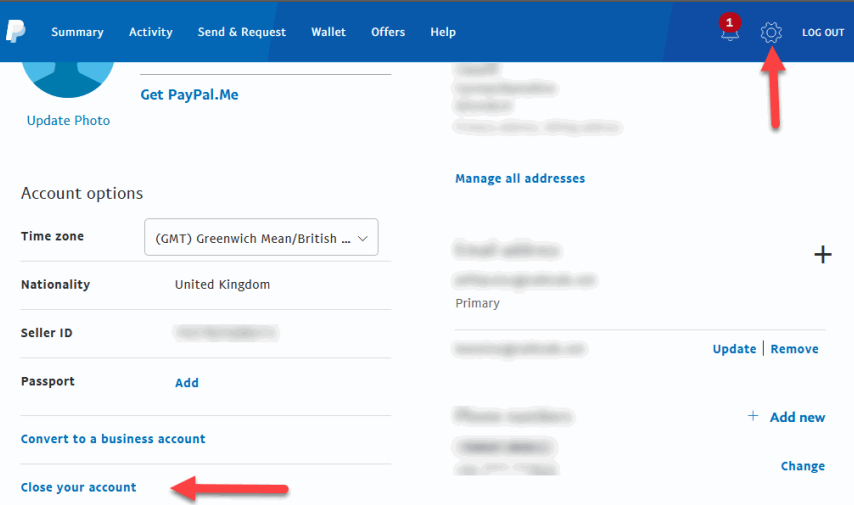 ************************


.
Mamie Stewart Case - told by Glamorgan PC Dave Barnett (Rtd)
YouTube video link to an interview filmed by Peter Hall.
29th October 2020
************************
Subject: Job Vacancy.. I work in the enforcement section of waste management at the Baling Plant Swansea enterprise Zone. We have a vacancy in our section (Bob Whitter Jones' old job)
Swansea council are looking to fill the post in the next month and the job is going to be on a 1 year fixed contract employed directly by the council (no agency)
It will be based at the baling plant and full time 37 hrs week.

Could you if possible put the word out via NARPO to see if any retired officer is interested in the job
They can contact me in the first instance for further info via my e- mail.
Thank you if anyone is interested, contact details are printed below.

Peter Manley
Enforcement Officer
Waste Management
City & County of Swansea
Tel: 01792 761764
E Mail peter.manley@swansea.gov.uk
22nd October 2020
************************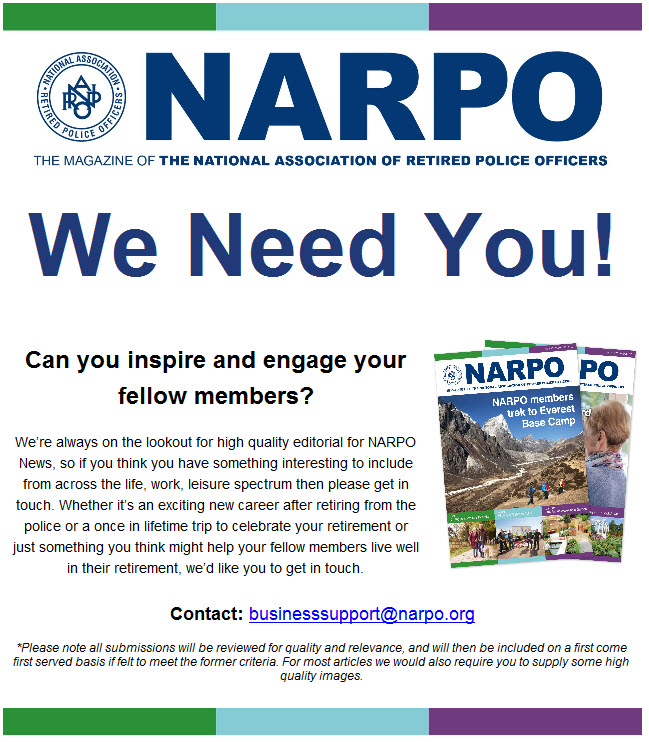 A National Police Memorial day (Virtual Service) will be held on Sunday 27th September at 3pm.
The service will be held on a website. Please note that its not available to view until 3pm. You will be asked to provide your name and email address.
The Swansea NARPO Golf day was held at Machynys Golf Club on Friday 18th September.
49 people took part in great sunshine but with a very strong wind, which made the course a tricky test of golf.
Despite the difficult conditions, there was some very good scoring with the winner being Gary Diplock with a fantastic 35 points. Gary wins the Joe Trigg / Swansea NARPO Trophy, a £50 voucher for American Golf and a two ball voucher to come back to Machynys on a calmer day!

2nd place was a tie on scores between Andy Hawkins with 34 points and Paul Thomas, however Andy wins 2nd with a better back 9 and Paul is third. They win £35 & £25 vouchers respectively. Nearest the pins were Peter Williams on the 2nd, Colin Smith on the 7th, Tony Carpenter on the 11th and Neil Morris on the 17th, hell of a shot Neil to that pin! All the above win a £15 voucher.

Long drives under 55years of age was Rhodri Lewis and over 55 was Richard Collins. Both win a £15 voucher.
The raffle for a 4 ball voucher to return to Machynys, was won by Rhodri Lewis. Rhodri, remember who your friends are!! The 2's sweep was shared by Gary Diplock, Tony Carpenter and Peter Williams who all won a sleeve of TaylorMade TP 5x golf balls.

A huge thank you to Greg Llewellyn who was out on the course for about 6 hours taking many hundreds of photographs, which Greg has now uploaded Swansea Narpo Facebook page. He has taken some great pictures from quite perilous locations and I'm sure you will be delighted with the "action pictures" he has taken of you.

Pictures displayed here are of the Players, Prize winners and the Backroom staff who did a great job organising the day.
Warren Williams
**********************

The NARPO golf day is almost upon us
It takes place on Friday 18th September at Machynys Golf Club in Llanelli.

Last updated 16th September
We have space for two more players, at 10:01 & 10:29.
There is also a new reserve list up and running, as all players that were on the original list have now been slotted in to the start sheet. Currently 52 people have registered to play, if you would like to play on the day, message Warren for more information. Long range forecast is promising!
I am delighted to be able to tell you that the golf day scheduled for Friday 18th September 2020, is still going ahead.
I have met with the clubs manager and we have agreed on a compromise from the original plan, in order to comply with the new guidelines from the Welsh Government. All tee times and partners REMAIN UNCHANGED from previous posts. The 'golf element' of the day remains unchanged, as all of this is done outdoors.
The change has had to come in relation to the use of the indoor facilities, the food / socialising pre and post the round of golf and potentially the presentation of prizes. Therefore the bacon roll & coffee, pre round and one course meal post round has been removed from the package. We have also been allocated exclusive use of a terrace area on the ground floor outside the rear of clubhouse for registration and halfway house.

We will also be able to use the balcony at the back of the clubhouse, however that area will be with other customers.
By removing the indoor and food elements from our original package, we are now complying with the current guidance from the Welsh Government.

The overall cost of the day has also been reduced to accommodate these changes from the original cost of £35 down to £22 per person, which will include;
Range balls pre round
18 holes of golf
Prizes - long drive x2, nearest the pins x4.
Third place, second place, first place & raffle.
The value of the aforementioned prizes are in excess of £200.

Should you feel uncomfortable about these new arrangements, the current situation and feel that you don't wish to attend, could you please contact me before lunchtime Tuesday and l will remove you from the tee time list. This will allow sufficient time for any reorganisation.

In the event of not hearing from you I will assume that you are still attending, I think that's possibly the easiest way?

Despite the changes we have made the bar and restaurant will remain open to us, club members and the public, this will be monitored by club staff for compliance. If you wish to order food and beverage you will still be able to to this, and consume it in our segregated area. Its just not being done in a pre-organised fashion as this would be contrary to WG guidelines.

Thank you for your understanding.
Warren.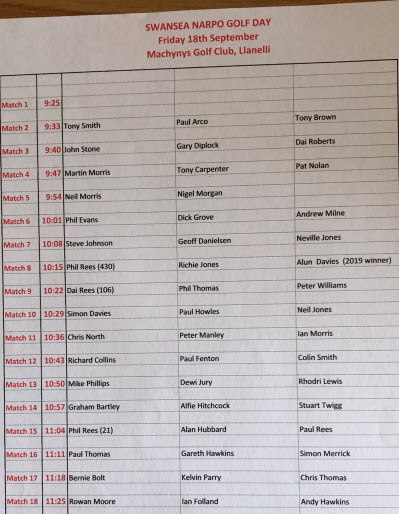 If due to unforseen circimstances you can't make it, could you let me know ASAP so that your space can be offered to another person.
Format of the day will be registration from about 08:30 and payment of £35.
Bacon roll and coffee/tea on arrival.
Range balls made available before you start.
18 holes of golf as per tee times and groups highlighted.
Stableford format, maximum handicap of 28.
One course bar meal on completion of your round.
Presentation of prizes to winners.
1st, 2nd, 3rd,
Nearest the the pins on all par 3's
Separate Long Drive categories for over 55' s & under 55's
Prizes are in the form of vouchers for American Golf.
Raffle.
The club is adhering strictly to the Covid guidelines and the competition will follow current commonly accepted guidelines in relation to score cards, bunkers etc.
Warren Williams
11th Sept 2020
*************************
A member of the public, Dick Rhodes is compiling information on the Mumbles Train.
"I would like some information regarding an accident which occurred near the St Helens ground I think in the 60's when the train collided with a car exiting the sidings.
I believe a police officer by the name of Bate or Bates comforted and looked after the injured driver of the car.
I am having difficulty finding any information anywhere and would like pointing in the right direction if you can help please. On scanning the online Swansea Muster Roll I have noted a Bill Bate SW borough no. 95, SWC N0. 2115 and was wondering if this is the same officer.
If I can get photos and more info I would like to remember the officer with a post on Facebook.
Look forward to hearing from you"
I can be contacted by email - rdrhodes441@yahoo.co.uk

Dick Rhodes
18th July 2020
Increased hardships during the Coronavirus pandemic
My name is Judy Baker from SeniorCareGiverAlliance. I write a lot about issues affecting older adults. Due to the current crisis, I've been particularly focused on health and finances. Older adults are and will continue to face increased hardships during the Coronavirus pandemic. But there are things they can do. I've found your page helpful so I thought I'd share some additional resources for you.
19th June 2020

1. Retirement Insecurity in the time of COVID
2. Financial Literacy for Older Adults
3. Coronavirus Information for Older Adults and Caregivers
4. Coronavirus Impacts on Older Workers
*************************

Important information about AXA PPP healthcare Annual Travel Insurance


This relates to NARPO policies not the Group Insurance provided through The local Police Federation. In response to the current circumstances we've set out some additional options and specific considerations for you to think about. Update 1st June 2020 Read all about it here...
Steve Edwards - CEO - Narpo HQ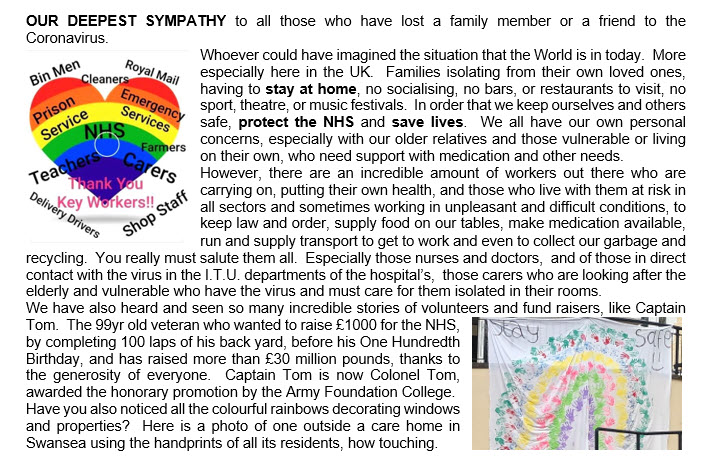 OFFER OF HELP Chief Superintendent Maal wants to let you know that if any of the members require any support at this difficult time, please do not hesitate to let us know.
Kind regards
Diana Price
diana.price@south-wales.police.uk
Title: Ysgrifenyddes i Brif Uwcharolygydd Joanna Maal a Thîm Rheoli Adran y Gorllewin
Title: Secretary to Chief Supt Joanna Maal and
Western Divisional Command Team
01792 450600 | Ext: 50287
*************************
A BIG THANKS to Bryon Tucker for all his efforts/passion in producing the Swansea NARPO Newsletter since 2007, which we have all enjoyed. Bryon has put so much enthusiasm into Swansea NARPO, not only the Newsletter but writing and sending greeting, anniversary, get well and sympathy cards. He was also very active in dealing with welfare matters, especially bereavements, when he acted as liaison between bereaved families and HQ welfare department on countless occasions. Bryon has stepped back from these roles, he is however, still being relied on for advice by myself and other members and is still involved with the committee.
LIFE MEMBERSHIP AWARD Congratulations to Bryon who has now been presented with a Life Membership Award. Due to the lockdown restrictions the award could not be made in person, so a "virtual presentation" was planned and a video call was made with Phil Taylor and Leighton Jenkins to Bryon on Monday 11th May. Our president, Leighton Jenkins, gave a lovely speech, before Bryon was presented with a Life Membership Certificate and Pin (which were held up by Phil Taylor for Bryon to see). Bryon was shocked and lost for words. Bryon's wife "Vera" was also thanked for giving so much support to Bryon over the years, a well-deserved award.
Once again Bryon, a big thanks from us all and enjoy your extra free time.
************************
Narpo Golf Day now on Friday 18th September - More here.
***********************
SWP FEDERATION GROUP INSURANCE.
Premiums not deducted from Pension by Capita. Some of you may have noticed, that this month's Group Ins. has not been deducted from your May's pension advice slip. Capita forgot to amend an end date on their system for the deductions after they were advised that the rates for the scheme were not changing. This has happened to more than one scheme this month in the same situation, unfortunately, but is the first time that this problem has occurred.
Capita are arranging to take a double deduction from those affected next month to cover the unpaid premium, it will revert to your usual deduction every month after that.
The Federation are also aware of the situation.

PLEASE REST ASSURED THAT YOUR COVER WILL NOT BE AFFECTED.
REQUEST FROM MEMBER TONY POPPLE
I am in the process of arranging a small tour to South Africa in 2021 to follow the British and Irish lions in their three Test series. I am exploring all the ticket possibilities and therefore am looking at any member who has relatives, friends, or contacts in S Africa to contact me and perhaps put me in touch with like-minded people over there to contact and maybe a source of tickets? To contact Tony please phone 07812 401917 or email angelapopple@icloud.com


15th March 2020

AGM more notes - unsure at this time if it will be rearranged, it will depend on the lockdown.
NARPO HQ have made an emergency rules change to cater for branches not holding one.
The audit of our branch accounts has been completed. These may be accepted at the next committee meeting.

NATIONAL CONFERENCE OF NARPO
Due to be held in Plymouth, has been cancelled, no plans to reschedule this year.

BLUE LIGHT CARD
To remind you of this opportunity to benefit from genuine discounts. This is a computer-based discount facility available to employees of emergency services and includes retired personnel such as ourselves. You need to visit www.bluelightcard.co.uk to register and view what is available locally and nationally. There are hundreds of on-line discounts you can purchase a Card for £4.99 which lasts for 2 years and can be used at participating checkouts. A few of the local discounts available include Halfords - Lloyds Chemist – Hotpoint - Mobile phone companies and many coffee shops and restaurant's when they re-open.

OUR COFFEE MORNINGS were continuing to be well supported at The Malthouse Restaurant in the Grand Theatre. In fact, at our February coffee morning "which ended up being the last before the lockdown," a very easy to listen to and informative talk was given by Dai John "Head of Awareness Prostrate Cymru." Explaining the signs to look out for, the improvements in treatments and the emphasis to all men that get symptoms, not to ignore them, as it seems to be a man thing that they delay contacting their G.P. In the May edition of the NARPO magazine there is more information on this subject, which is well worth reading. Our coffee mornings are usually held on the 3rd Friday of each month, between 10.30am and 1.00pm.

I'm sure everyone is looking forward to attending this social event again, when the restrictions are lifted.

Committee Changes - a warm welcome to Carole and Andrew Milne, Terry Arnesen who have joined our Committee. Our Welfare Co-ordinator Bryon Tucker is relinquishing his various commitments which have been reallocated. Bereavements should be referred to Erika Fowler by email; erikafowler762@gmail.com who will arrange for the Force Coffin Drape etc. Ill health should be referred to Carole by email carolemilne@hotmail.co.uk; Andrew will produce the Newsletter. Coffee Mornings will now be arranged by Gerry Coad.

Ill Health - We don't normally broadcast anyone with Ill Health unless we have consent.
Wes Weekes is currently in the Cardiac Ward at Morriston Hospital. He has consented to us broadcasting his condition and would welcome any visitors but best to contact the Ward first to check before visiting.
6th March 2020

Data Protection-Newsletter We have reverted to our practice of mentioning Special Birthdays, Golden and Diamond Wedding Anniversaries. However we will no longer post details of a member's hospitalisation, unless we have prior consent) but individual members can post it on our Facebook Group or colleagues on their behalf.

(If you do not wish for your particular event to be mentioned in the Newsletter please inform our Sec Phil Taylor).

Bereavements - our condolences to the families of Viv Ash – Margaret Thomas - Allan Rees – Des Edwards – Bill Sears. Mrs Barbara Edwards widow of recently deceased Des Edwards wishes to thank members for their telephone calls, cards, and letters of condolence at this sad time which she and her family greatly appreciated.

Special Birthdays – BEST WISHES - on their Special Birthdays in the coming months,
Jean Owens – Mike John – Bryon Tucker – Bob Salmon – Gary Clarke – Mike Howe - Roger Bowen – Carole Jones – Phillip Howells – Angela Inward – Alex Norman – Janice Salter – David White – John Rees – Geraldine Wheeler – Ceri Thomas - Teifion Christmas – Howard Davies.

CONGRATULATIONS – in the coming months to Bryon and Vera Tucker on their Diamond Wedding Anniversary
Peter and Julia Davies on their Golden Wedding Anniversary Graham and Mildred Davies on their 65th Anniversary

New Members - Welcome to David Rees (Ret Insp 106) – Paul Killa (2211) – Peter Critchley (2154)

Blue Light Card- we remind you of this opportunity to benefit from genuine discounts .This is a computer based discount facility available to employees of emergency services and includes retired personnel such as ourselves. You need to visit www.bluelightcard.co.uk to view what is available locally and nationally and to register. There are hundreds of on-line discounts and also you can purchase a Card for £4.99 which lasts for 2 years and which can be used at participating checkouts. Locally, discounts are available at Halfords - Lloyds Chemist – Hungry Horse - Toby Carvery – White Rose. Recently, a member was booking a Cottage Holiday through Hoseasons and just prior to pressing the Pay Now button he suddenly remembered to check Blue Light – yes Hoseasons was listed. 2 clicks later and he immediately saved over £70!

Welfare Matters Benevolent Fund Please be aware there is money available in the fund, for home improvements, for disabled members, this application is subject to means testing. However, there is also NON MEANS TESTED funding for a rehabilitation break to Flint House. Also, for unforeseen hospital admissions, which require travelling and overnight accommodation for family members. For further information, to establish if you are eligible to claim these allowances, please contact Erika Fowler our welfare officer by email; erikafowler762@gmail.com.
Any contact with Erika will be totally confidential.


Free Wills Offer and 25% discount on Power of Attorney
Ex Inspector 1490 Ray Milne is now assisting his son Gareth Milne at Swansea Legal Solutions Ltd. Gareth and his team specialise in wills, Lasting Powers of Attorney ['LPA's'], probate, property trusts, care fee planning, tenants in common, PROTECTING FAMILY HOMES. Please see Free wills [basic] and an excellent 25% reduction in price for LPA's in advert alongside. Any questions/ queries or for an informal friendly chat, simply call Ray 07790 416 512 or Gareth 01792 420844. Keep an eye out for further articles on the above services on NARPO Facebook and website.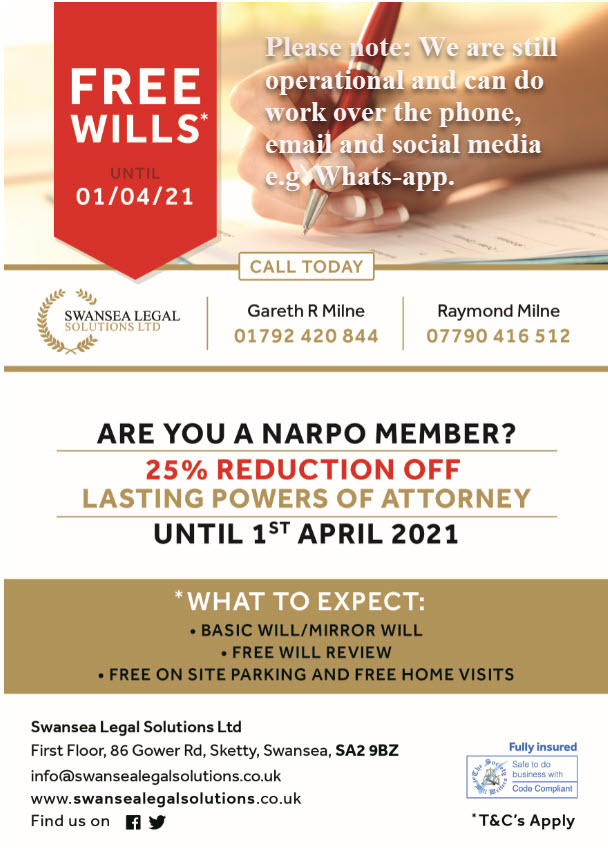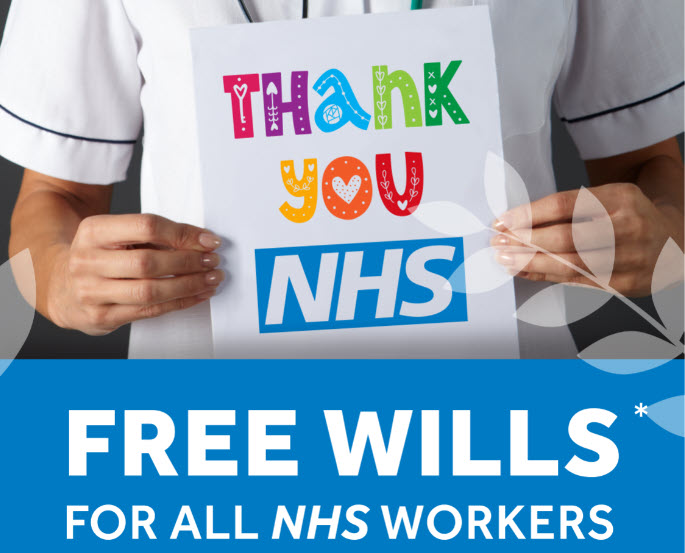 ******************
Quick Guide - New Photographs available to view below
Select links of your choice -
'Computer Stuff'

Website don't forget to visit our Swansea Narpo Facebook page plus our website www.narposwansea.co.uk regularly to get news updates, latest photos and many informative and advisory articles. You are reminded that a section of our website is for Members Only and to gain access to this you can obtain a password unique to yourself by emailing Jeff at beewise@talktalk.net . Some of you are having difficulty in accessing the Members Only pages because you are using Safari Browser - we suggest you use another browser e.g. Google Chrome or Mozilla Firefox - again contact Jeff if you want further advice on this.

Personal Records To ensure that you are kept informed of what is happening in Narpo locally and nationally it is essential that you keep us updated on any changes such as new home address, telephone number and/or email address.
At present we have some members whose only contact details are their home addresses.

Contact details: Important - In order that we are able to contact members in an emergency we ideally would like to have at least a contact telephone number, and possibly an e mail address.Your details are treated as confidential and will not be passed to any third party outsideof Narpo. If you have any doubts you can check the records we have on you by contacting our Sec Phil Taylor.



All e-mails are sent via BCC (Blind copy) so that members e-mail details will not be shown on any one else's e-mail, thus protecting their privacy. If you are receiving the Newsletter by Email and by post could you please contact Phil Taylor to let him know that you are content to receive the e mail copy only?

Our Swansea Narpo Facebook page (already over 300 members) is already a well-used and an established part of our communications network with news updates, old photos etc. being added daily. Regular users will be already aware of some of the information in the Newsletter but many of our members do not have computers. Also, many who do are not Facebook subscribers so some repetition is unavoidable.
All members with access to computers are welcome to join in - including bone fide family members who can show the items to their Narpo parents for example. It's a closed group so the content is not available to non-members.
Website appeal - Our Website continues to flourish, is well visited and complemented by our Facebook page 'Swansea Narpo'. We are confident though there must be many photographs and interesting/amusing anecdotes from 'your time in the job'. So, please do feel free to contribute and get in touch - you can of course remain anonymous if you so wish! We also welcome any suggestions you may have for improving 'your' website.