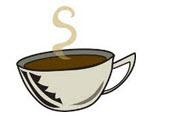 Coffee Morning - From your Committee -
Once again the march of time 'grinds on' and it is almost time for our January coffee morning.
The next one will be held this Friday 20th January 2017, at our usual place, Tapestri, (inside the old Central Police Station), Orchard Street, Swansea, bewteen 10.30am and 12.00md.

All are welcome to attend, and it will be nice to see any new faces that wish to attend, as well as the old stalwarts.
I hope to see you there.
Bryon Tucker
18th January

Golf Day - The Committee of Swansea NARPO are looking at ways of getting members together, and one such way under discussion is to hold a Golf Day. Whilst it is early days and no final decision has been reached, the following are some ideas being considered: ·

Venue – not decided upon, but in all probability Clyne Golf Club, Mayals Lane, Swansea. (http://www.clynegolfclub.com/).
· Time and date – to be decided upon.
· Cost – to be calculated.
· Format – 18 hole Stableford Completion along with 'Longest Drive', 'Closest to the Pin' etc.
· Post-competition dinner.
· Small prize-giving.

In order to gauge interest and viability, could you please indicate whether you would be interested by either replying to me via email – daviderees129@gmail.com or
Via my mobile – 07521 293843.

NB. It would assist if you could do so before Monday 16th. January which is the date of the next Committee meeting. If you have any questions or queries please feel free to contact me as above.
I hope that as many of our members as possible will take part, and hopefully this event can become an annual one.
Dai REES (Ex-2880).
*************
PRESS RELEASE
Those aged 65 or over in Wales are urged to protect themselves against flu Read more here
26th November

**************
Protect your State Pension - Protect your State Pension - Attempts are being made to stop increases - Steve Edwards, Chief Executive Officer, Narpo. The triple lock is a guarantee to increase the state pensions, every year by the higher of inflation, average earnings or a minimum of 2.5% and was introduced to make sure that pensioner income was not eroded by the gradual increase in the costs of living.
The Work and Pensions Select Committee said that continuing with it was "unsustainable" and "unfair" on younger families. They think it would be better if the new state pension and basic state pensions were linked to average earnings with a formula included to protect pensioners during periods where earnings lag behind inflation.
Many pensioners still need the triple lock guarantee to ensure that their standard of living is safeguarded and we are worried that these changes would not be enough to do so.
You can read more and take action right here...
11th November
Government Autumn Survey - Later Life Ambitions wants to know what our members want to see in the Autumn Statement:

1. Do you believe universal benefits should be protected for all pensioners after Britain has exited the European Union?
2. Do you agree that better off pensioners should not be entitled to winter fuel payments, TV licences and bus passes?
3. Which universal benefit do you value the most? Read more here

Steve Edwards
Narpo HQ
Wakefield
8th November
Coffee Morning - The November coffee morning will be held on the second Friday of November, instead of the third Friday it usually is held on. This is to avoid a clash with next weeks bus trip to Gloucester, and means the coffee morning will be held this Friday, 11th November 2016, between 10.30am and 12md.
To date these events have proved very popular, with several new members attending each one. We usually see a cross section of ages present at each one, and it is a good time to renew acquaintances, meet other members, have a chat and put the world to rights.
If you have a few hours to spare this Friday, come along, you will be welcomed. Remember the tea/coffee and biscuits are free.
Computer Fraud - The screen capture shown below was first publicised by Dyfed Powys Police. This telephone scam is now even more common. If you receive a phone call saying that you may have a problem with your computer, just put the phone down. DO NOT allow the caller to obtain access to your Pc. (They may ask you to download a small file which will enable them to see and access anything and everything) It's also now common to receive emails with the same intent.
Also, if your page is hacked with a warning message, purporting to come from Microsoft, (there may also be an audio message) you may not be able to close the page using the normal X. To close the offending message, hold down Control/Alt delete at the same time and then press down the delete key.
A window will then pop up - Choose Start Task Manager
Navigate to Applications (top left of next pop up window) and simply select the web page and then End Task. That offending page will then be shut down.
You may wish to practice using Control/Alt Delete keys right now in order to become familiar with the process.
Jeff Davies
Web Officer
4th Nov 2016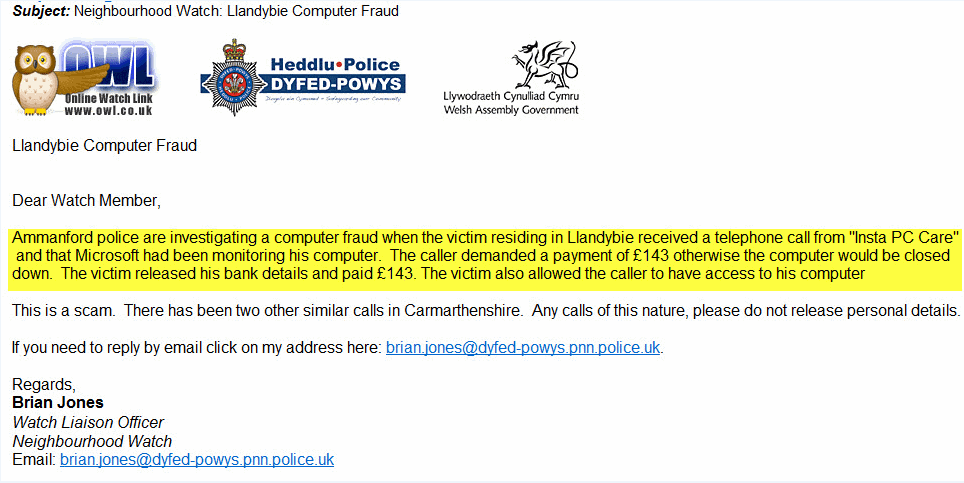 *****************
Hi all

Memorial Garden - HQ I just wanted to update you on the changes that are due to take place in HQ specifically in the memorial garden.

As you may be aware there has been a lot of building work going on over the last few years and the main HQ building has been extended and renovated with staff due to move back in the New Yr. In addition to the changes to HQ a new building is going to be created on the site of the memorial garden, this will be a café and hot desking area which will replace the current Ty Coffi/old canteen area.

As you know, the memorial garden an important part of the site and will of course be retained, however, it will need to be relocated. Plans are currently being drawn up based on a brief to locate it in an appropriate position within the site with capacity to remember more officers and staff.

I just wanted to let you know, should you receive any queries from retired officers who may become aware of this or see the building work taking place and have concerns about the garden and those remembered there. Therefore, I would be grateful if you could reassure anyone who contacts you that the relocation of the garden will be done as sensitively as possible will be replaced in another location on the HQ site.

Also contact has been made with the relatives of those currently remembered in the garden to tell them of our plans and share the plans for the new garden.

Any queries please let me know

Regards

Emma Mills
Police Headquarters
Bridgend
3rd November
*****************
Hi All,
Independent Inquiry into Child Sexual Abuse - Click here to read the Circular
The Guidance mentioned can be read here
Regards
Steve Edwards
Chief Executive Officer
30th Oct

An appeal from Australia - Jacqueline Sutherland from Queensland Australia is seeking information regarding her Grandfather David Arnold who was Constable 294 in the British Transport Police based at Swansea. He is pictured in this probably 1940's photograph in the back row on the far right. It is believed he was serving in the 1920/30's.
If you can help the please email Jacqueline at imcds2012@gmail.com (Please copy us into any feedback to keep us in the loop)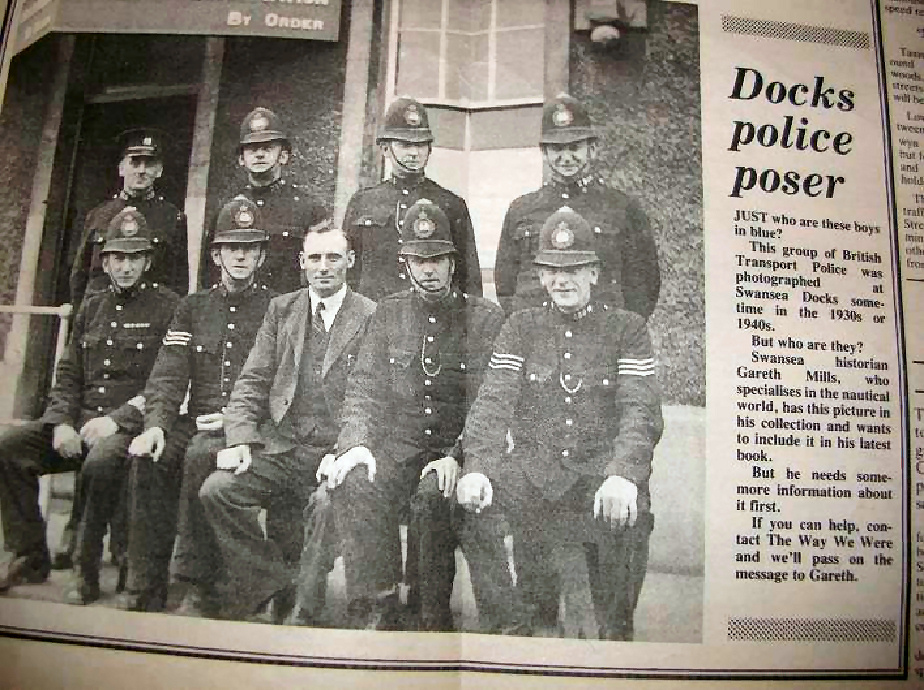 Monthly coffee morning
Good afternoon,
Once again, time has flown and it is almost time for the monthly coffee morning. The next one will be held on this Friday, 21st October at the usual place, Tapestri in the old Central Police Station, Swansea. Why not come along and meet old friends and colleagues and have a natter for an hour or so. The coffee morning starts at 10.30am and runs to 12md. Plenty of time to put the world to rights, and discuss old events.
Hope to see you there

Phil
Philip TAYLOR
Secretary
Swansea NARPO(98)
17th Oct
Will your MP help protect 'Attendance allowance'? Read more here 17th Oct