Thank you so much for my birthday card and gift voucher.
It was a lovely surprise.
My wife sends her grateful and sincere thanks for the the birthday card and voucher that she received on her birthday, lovely gesture.
David Walters
10th June
From my wife Sue. I was surprised and delighted to receive your card and gift voucher on my birthday.
Thank you very much, it was totally unexpected. The bonus of "big birthdays".

Thanks again. David Rowe May 31st
I'd like to say a massive thank you for my Birthday card and voucher..I wasn't expecting that..lol. Just had lunch with my family..enjoy the rest of the sunny weather.

Jeanette Hamilton May 21st
Sending a big 'Thank You' to the Swansea Branch of NARPO for the Birthday Card and £10 voucher on my 70th back in March,
I have been meaning to send thanks for a while.
I will make it for a Coffee at the old CPS one of these days that's a promise.


Dear Bryon,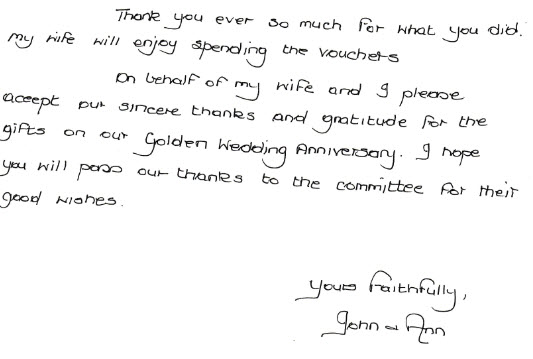 John and Anne Thomas
May 2017
****************
Dear Bryon
I have been asked by my wife to pass on her heartfelt thanks for the lovely birthday card
and gift voucher she was thrilled to receive on her 65th birthday. I am sure that everyone
involved with the Branch appreciates such kindness. Keep up the good work.
Best regards.
Peter and Cheryl Allsopp.

May 2017
****************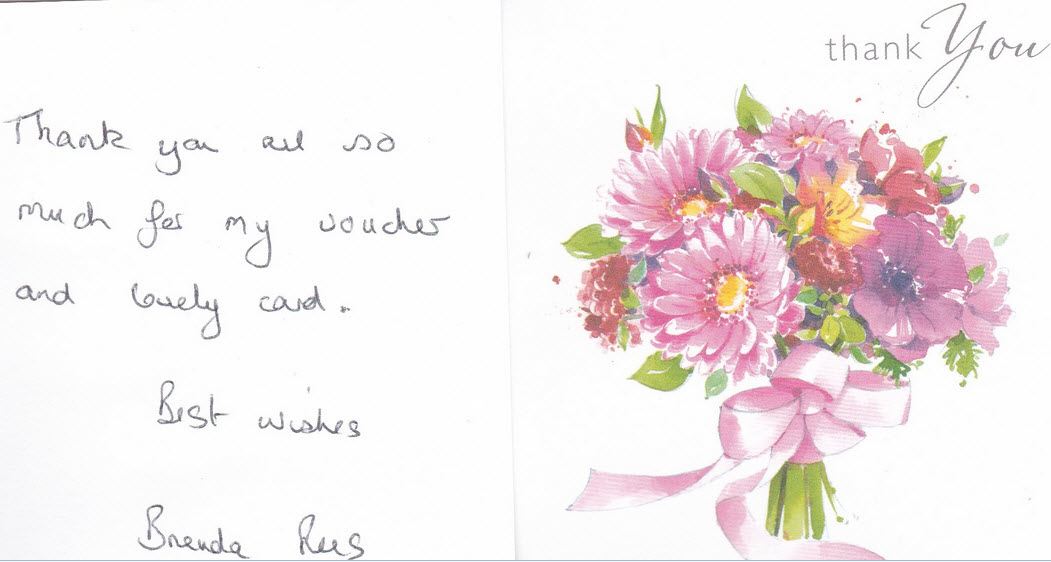 April 2017
**************
AGM - Sketty Hall was a really lovely afternoon and Debra John was brilliant. Thanks to all involved in the organisation.
Hazel Davies
April 2017
*************

Hi Bryon,

The Narpo Birthday card was the first I had received. Would you please thank the local members for their kind gift and good wishes.

Our best wishes to you and Vera,

Pam amd Islwyn (Evans)
29th March 2017
*********
Phone call received from Will Jones expressing his appreciation of our Get Well Card / Vouchers. He felt fine in between treatments and could get out and about.
Bryon Tucker
19th March
*********
Phone call received from Peter Davies to thank the Committee for his wife Julia's Birthday Car/ Voucher.
12th March.
**********

Thank you Narpo so very much for my birthday card and gift voucher. It was a wonderful surprise. Your thoughtfulness is greatly appreciated.
Jenny Brain.
12th March
***********

Hello Phil

Thank you once again for a most informative news letter as always.
Regarding the attendance at the Aberfan disaster. I would would like to point out that I was also there as a Police Motor cyclist for a period of approximately two weeks
Memories I'm sure will not be forgotten
Thank you again for the great job you do for Narpo
Derek Michael. (Ex PC 1. Swansea Borough. 2021 SWC
3rd March 2017

***********
Hi Bryon,
Just a note to say thanks for the Golden Wedding card and generous vouchers. Ps. The anniversary was last year 19.2.66. Hope you are both well as haven't seen you both in Tescos.
Thanks again from both of us.
Mel and Sandra.
Note: Thank you for your thank you - sorry it was a year late!- records now amended - don't forget to share it with Sandra - I will check next time we meet at Tesco!
Bryon
***********
Hi Phil,
Please convey my thanks to the Narpo committee member who remembered my 'big' birthday. The card was fab and the voucher a lovely welcome surprise. Thanks so very much again

Jeff Brain 1164
Feb 2017
*********
Hi Phil,
I realized how remiss it has been of me not to give you any feedback on the damn good job you guys are doing.
Sketty hall was a great venue for the above mentioned as the atmosphere, presentation and food were really great. The only other place which was better was the Dylan Thomas Centre which has now closed.
Again much appreciation for all the work you guys do to keep us better informed.
Kindest regards,
Conrad Morris
29th Dec 16
*************
Thank you so very much for the beautiful Christmas lunch held at Sketty Hall last Thursday, it was our first time attending this luncheon and we thoroughly enjoyed the occasion, the food was delicious also meeting old colleagues and friends.
Thanks to you all who helped in the organisation.
Have a very Happy Christmas and Healthy New a Year.
Regards
Steve & Irene Roberts.
10th Dec
************

We have received a nice phone call from Pat Baynhan. She used to work in M & S as a store detective; thanking Narpo for the card and voucher on her birthday. Whilst on the phone she mentioned that Brian and her had recently celebrated their diamond wedding on 1st September 2016.
29th Nov

*************

John Price thanks the Committee for his Card/Voucher for 70th Birthday.

Bryon Tucker
26th November

****************


************


John Williams (Ex Supt Traffic) thanks us for his recent Golden Wedding Card/ Vouchers.
Nov 2016

*************

Hi Bryon,

Thanks for the get well card (yes it was a good choice, Barbara has previously painted that aspect). Thank you for the vouchers though I prefer their receipt for a special occasion rather than a get well situation!

See you at the Christmas Dinner.

All the best Roger Bevan
17th November

(The "good choice"" mentioned by Roger was a well known Tenby scene on the card and as Roger hails from that area I could not resist sending it to him once I saw the picture albeit Barbara had previously painted it)
Bryon Tucker.

***************




************




Sue Davies (nee Felton-Smythe)


Oct 2016

***********

Dear Bryon, I would like to thank you and members of the committee for the gift voucher and lovely card I received on my 'special' Birthday. The Voucher will 'bee' put to very good use!
Regards
Jeff Davies
Oct 2016


***********

Dear Phil…..On behalf of Hilary and myself we would like to thank Narpo for the gift vouchers we received for our Golden Wedding Anniversary. It is always nice to be remembered….Can you also arrange for Brian Tucker to be made aware that we did receive the vouchers.

John and Hilary Williams
15th Oct

***********

Hi Phil,
I am not a member of Swansea NARPO, but a member of Glamorgan NARPO and NRPOA
(Neath Retired Police Officers Assn). I was browsing through your excellent site and was
taken with the photo of Penclawdd Police Station where I lived for eleven years in the 1940/50's when my father was a PC there. I was also able to comment on another photo which showed uniformed officers with chevrons on the bottoms of their sleeves. Someone queried what they were and I was able explain that they were 'Merit Class' class stripes. Officers earned them by virtue of their ability.

I finished up as Ch. Inspt., at Neath, after 33 years, having served, at Neath, Briton Ferry, Barry, Port Talbot and Swansea. During that time I served on the street, C.I.D. and Pros Dept.
Regards,
John Lewis.
P.s. I retired in 1991.

October 2016

***********8


October 2016

*********

Hi Phil, please pass on my thanks to the Welfare committee for the totally unexpected voucher for my 65th birthday. Mike and I had been celebrating our 40th wedding anniversary in Mauritius and only got back yesterday (Tuesday) what a lovely surprise.

Many thanks
Val Watts
24th August


*********

Birthday card and voucher - I would like to thank you all for my 65th birthday card and voucher which was very much appreciated.

Regards Roger Moore

20th August

**********

"Phil, thanks to Narpo, for Gwyneth's birthday card and wishes on her 70th.

Regards Tony Gill"

August 2016

*************

Phil, I was hoping to be at the coffee morning today but was not able to make it to thank the members and committee for the vouchers I received. You may have known I had a pacemaker fitted in May and am feeling better for it. Still undergoing some tests at Morriston outpatients but otherwise all is satisfactory.
Regards
Selwyn Davies
July 2016

**************

Many thanks for the beautiful card and tokens I have received from NARPO after my recent visit to hospital. Six weeks on crutches now so I have plenty of time to dwell on what I will use the tokens towards!

Barbara Bevan
June 2016


**************

Dear Bryon.
Just a quick line to say a big thank you to all NARPO members for my lovely birthday card and voucher on my recent birthday. I will be off soon with David to hit the shops.

Thanks again

Jennifer Owen
June 2016

**************

June 2016

****************

Joyce is the widow of former Swansea Policeman John Hughes (No 195)
We had her name as Lilian which is her first name but she is known as Joyce.

Bryon Tucker - April 2016

Hi Bryon,

Thank you for the card and much appreciated gift. The operation went well and things should be back to normal after a six week recovery period.

Regards and best wishes to yourself and family.

Colin Wooldridge
April 2016


***********

Thank you for the gift voucher.
It was a lovely surprise and very much appreciated.

Brian Bray
April 2016 -

***********

Bryon, my I offer our thanks for posting my message (Facebook) and for the many get well messages from friends and former colleagues that were subsequently received. Also for the kind gestures of the Gift.
Peter Allsopp
26th January

************

Margaret Williams has telephoned me to express her delight and gratitude for our Get Well Card & vouchers and thanks to the Committee.

Bryon Tucker
14th January


************

*************

Hi Phil,


On behalf of my guests and myself who attended the Christmas Dinner at the Manor Park yesterday, I would like to thank all members of the committee for the work entailed with the organization of the event. We all enjoyed the meal and meeting former work colleagues although once again no luck with the RAFFLE!!! I told the bloke behind the bar after he asked me any luck with the raffle" If I was the only one here I still wouldn't win it" Please convey my appreciation to the committee when you next meet.

I must admit first thing in the morning I didn't feel up to attending having been to the health center to give blood and blood pressure tests, but I was glad I made the effort because of my guests, (could't leave them alone with Emrys) the dinner was excellent not having to wash up the dishes was great as well.

If all goes well and I am still alive I would recommend returning to The Manor Park next year as I thought the meal was great & Hot, the atmosphere although not as many people as previous years was also very nice.


Cheers for now


Keith Carne
Dec 2015


***********

Hi
Just want to let you know that Janice and I as well as Rae and Cyril very much enjoyed the Christmas Lunch. Many thanks to those who did all the work and a Merry Christmas.
Dave Salter

************

Hi Phil,
On this, my 65th Birthday, I received a very nice surprise from Narpo and for which I thank you very much. Today also marks the 42nd Anniversary of my first shift (nights) at Swansea Central. The worry is that I can remember it more vividly than I remember what I was doing this time last week.

Once again thank you very much, and to Brian Tucker, who, I understand, organises these things.

Best wishes
Phil Smith
14th Dec

***********

Dear Phil
Thank you for the vouchers on the occasion of my 90th Birthday.
Have been shopping around to spend them wisely. Kind regards.
Les Taylor
11th December


***********

**************


November 2015

**********

Dear Bryon,

My apologies for the lateness of this response, but I have a medical issue which has been distracting me. Having said that I was cheered up enormously by the arrival of the gift voucher, which was both unexpected and for which I am most grateful.

I shall have to try and suggest this as a good idea to West Mercia NARPO. They are nowhere near as generous.

Perhaps you will convey my thanks to the Committee Members. It is good to know that I have not been forgotten, albeit that I departed in 1978 – such a long time ago!

Once again many thanks.

Kind regards and best wishes

Roger Wedlake
Nov 2015


**********

Hi Jeff,
Just a quick thank you in helping me to find the "Home Farmer" site. I agree with you its a great site.
Regards
John Lewis
Ex. Ps 76
25th Oct 2015

Nb. For those of you who missed it, the article can be found right here...

**********

I spoke to Phillip Appleton yesterday on his 65th Birthday and he said he was "thrilled" to receive our Narpo Card/Voucher and asked that his appreciation be passed to the Committee.

Bryon Tucker
Oct 2015

***********

Hi Bryon,
Thanks very much for the kind gift - all I have to do now is find an outlet specialising in products for the "over 65's" !! Please pass on my thanks to the committee, both for the voucher and the card!

Kindest regards,
Roger Inward
Oct 2015

***********

Thanks to all for the card and gift voucher to celebrate my 65th birthday. You will be glad to know I spent it wisely. I blew the lot on a pint at the Wales v Australia game where I went with my boy James, last Saturday. Pity about the result but hopefully it was just starters for the main course later.

Best regards
John Kerr
14th Oct

************

Dear Phil


Thank you for the beautiful personalised card and gift vouchers we received from NARPO for our Golden Wedding Anniversary.


We very much appreciate your kindness and also the hard work that the Committee and particularly you and Bryon put in to see that everything runs smoothly.


We had a wonderful day which will long be remembered.


With all good wishes


Janice and David (Salter)
Oct 2015

*************

Hi Phil,
Would you please extend my greatest thanks to the committee for your kind thoughts and the gracious gift you posted to me. My health is fine at the moment but I have terrible body tremors and feel tired all the time. Andy Jones - ex Pc 1777
29th August


**************

Dear Friends,
Many Thanks for the Vouchers and beautiful card and well wishes during my recent illness.
I apologise for the delay in replying to you but every thing that could go wrong did. I was rushed in to Morriston Cardic from the road. Had a triple bye pass and before they could fit a pace maker I caught an infection; I was in for 5 weeks things are now on the mend.
Many thanks to all former friends
Hugh ex 236. 2256
August 2015

****************

Del Grace - wife of Fred has phoned to thank us for her 90th Birthday Card -she was delighted and impressed with the number of outlets covered by the Voucher.
August 2015


******************


August 2015


**************

This is a special occasion - Roger has actually allowed me to use "his" computer!!
I'd like to thank you and the committee for your lovely card and gift for my 65th birthday. 65??? what happened there?

I shall get Roger to take me shopping soon and put the voucher to good use. Thanks once again and good health to you all.

Best wishes
Angela Inward
1st August 2015

**************

Dear Byron,

Many thanks for your greetings card and gift voucher for our Golden Wedding Anniversary and it was very much appreciated by Mary and myself and we welcomed your good wishes.

It was very nice to be remembered in this way and would like to thank you personally, the officers and committee and all branch members for their interest and commitment to the Swansea Branch. We avidly read the Newsletter and regularly visit the Website to keep in touch as it helps us to remember the very many happy years service in Swansea and all friends and collegues from that period.

Good luck to all for the future.

Best regards,

Brian and Mary Jones

21st June

*******************

Jeff Stephens has telephoned his thanks to the Committee for his Card/ Voucher for his Birthday.
7th June


*********************

John Gower Williams has telephoned his thanks to the Committee for his Card/ Voucher for his 80th Birthday.
2nd June

**********************

Feedback from AGM April 2015 - Photographs can be viewed here


Dear Bryon

Would kindly convey to your Chairman, Officers and members of Swansea Narpo my sincere thanks for the warmth of welcome accorded me at Llys Glas last Thursday. I really enjoyed my afternoon together with a most enjoyable high tea.

My thanks to Swansea Narpo for their generous donation to my Cancer Charity Fund and the member's contributions to my collections boxes all so much very appreciated Bryon.

Your colleague Conrad Morris was such great support with my transportation and most valued assistance with my luggage, he should be mentioned in despatches.

Fellow members highlighted their wish to hear my second talk, namely. "The Fall of the Berlin Wall" when I was able to enter East Germany to continue my research for the remaining relatives of the late Captain Hartenstein's family, coupled with the writing of my second book in German.

Please, in due course, inform me of some dates for me to confirm an acceptance suitable to us both.

Many thanks again Bryon with every good wish and continues success for your most active Swansea Branch NARPO

Yours sincerely

DAVID

Capt David C Jones

April 2015